8/15/2018
Performances and Artists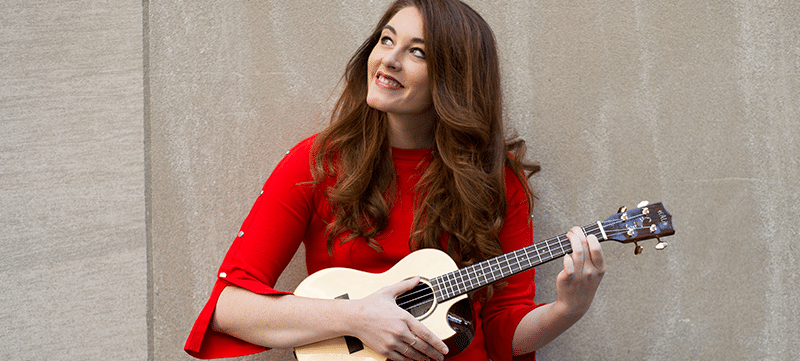 Deaf Singer-Songwriter Mandy Harvey to Perform Original Tunes for Vegas Audiences
Fans of NBC show America's Got Talent won't soon forget the powerful episode that introduced the world to vocalist Mandy Harvey. Her story alone was inspiring, of how she was forced to abandon her collegiate vocal music studies when she lost her hearing at age 18 from a connective tissue disorder.
Miraculously, Harvey quickly retrained herself to sing using muscle memory and visual tuners.
Even more compelling was her extraordinary performance on the show, with Harvey keeping her silvery vocals in time by performing barefoot and feeling the vibrations of the back-up music through the floor.
With undeniable talent and unflappable inner strength, the singer-songwriter has gone on to perform at the world's most prestigious concert venues and festivals.
Performing her original tunes at Myron's Cabaret Jazz at The Smith Center on October 12, Harvey discusses her incredible story below.
Mandy, you started singing when you were just 4 years old. How did you start out as a performer?
I first started as part of a church choir. I was always a shy and anxious person, but also hard of hearing and constantly misunderstanding the world around me, so I fell in love with being able to see the words in black and white and being a part of a team.
What do you love about performing?
I love the expression of it. I think it is beautiful that you can have a room full of people all feeling different emotions and dreaming different dreams simultaneously. In that moment, any differences or struggles of the day don't matter. You are experiencing something together, but also uniquely.
You lost your hearing at 18 years old. How did you first notice when something was wrong, and how did you feel learning about your medical issue?
I first noticed that I couldn't understand my teachers talking in class, even when I was placed front and center. We then started seeing audiologists regularly and it progressed out of control.
I have Ehlers-Danlos syndrome. This took years of hard work and seeing several doctors to figure out. At the time, we didn't understand the "why." We were just trying to survive and adjust to a new life.
Can you describe what it has been like adapting to life without hearing? You're obviously highly capable and living a full life!
Every day was a new challenge at first. Figuring out how to wake up in the morning and not be afraid of the dark took time to master, but all in all, life hasn't changed.
You adapt to your environment. I have found a freedom in American Sign Language that I wasn't expecting. Growing up hard of hearing, I now was able to communicate without playing a guessing game and misunderstanding the world around me. I wish I had studied this language growing up!
Can you describe your process for writing music without your hearing?
Writing music is a new challenge for me. It takes a team and some technology to make it work. First I start with an idea, a poem or thoughts on paper or a melody that pops up in my mind. Then I sing that melody into a voice recorder. That recording then gets sent to someone who can chart out what I sang/played, and sends it back.
I then relearn what I did, and take it from there on paper and finish it. A lot of songs I'll sing from top to bottom and not change them much, maybe only modify a word or two. I found a lot of love in song writing!
What did it mean to you to perform on "America's Got Talent" and showcase what a person without hearing can achieve?
I wanted to show another side of what a disability looks like. I wanted to show that even when your world comes to a crash and you fail, that you have the ability to work hard and get up off the floor and chase your dreams.
Music is a part of the soul. It doesn't matter if you can hear or not. It doesn't matter what your barrier is. There is always a way to express yourself. One of my favorite quotes is, "deaf people can do anything, except hear."
What kind of show are you planning for your upcoming performance at The Smith Center?
I'm so excited to be performing at The Smith Center! I will be playing a concert with my full band. We have an amazing amount of fun and will be playing mostly original work.
There will be sign language with every song. This gives life to the songs in a beautiful way, as well as being more inclusive to those who experience concerts differently.
Mandy Harvey performed in Myron's Cabaret Jazz in October of 2018.