1/16/2020
Education and Outreach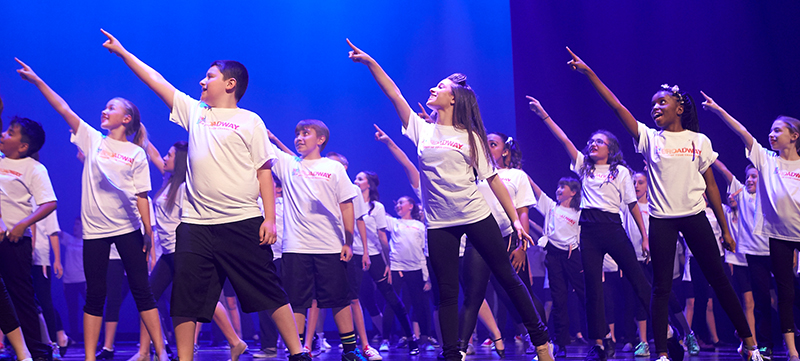 Summer Theater Program at The Smith Center Teaches Confidence, Teamwork and More
Noa Agatstein proudly confirms she studies theater at the University of Nevada, Las Vegas because she attended Camp Broadway at The Smith Center.
That's not just because this annual summer program teaches theater skills with professionals from Broadway, film and television.
It's also because Camp Broadway gave Agatstein faith in herself to pursue her dreams.
"Participating in Camp Broadway has given me confidence and courage, not only in theater, but in life," says Agatstein, 18, who participated in Camp Broadway for four years.
That's exactly the goal of Camp Broadway, which teaches singing, dancing, acting and more in two age-appropriate camps.
Whether or not participants plan to pursue the performing arts, the program instills important values for lifelong success, by encouraging kids to take the spotlight and create with others.
"Camp Broadway taught me how to work as a team player," Agatstein says. "It gave me confidence throughout high school, taught me the invaluable lesson of collaboration, and made me a stronger person."
Shining on Stage
Camp Broadway participants enjoy the authentic experience of putting on a real theater production.
With the Shining Stars Camp, for ages 6 to 9, this involves making sets and costumes and performing a shortened musical in the center's Troesh Studio Theater.
The Mainstage Camp, for ages 10 to 17, includes learning the choreography, songs and script of a condensed Broadway production — which participants perform on stage in The Smith Center's Reynolds Hall for friends and family.
The challenge of compiling a live production taught Agatstein how much can be accomplished through taking responsibility and working with others.
"What surprised me most was the amount of energy and effort that it took," she says. "The experience of performing the finale after five long days of work, to this day, remains one of the most rewarding experiences of my life."
Agatstein embraced the opportunity to learn from top professionals at Camp Broadway, she adds, including Keith Thompson, the music director for "Jersey Boys" and "Hairspray" in Las Vegas.
She also forged strong friendships in the process, which prompted her return to camp each year.
"I knew every summer I would learn something new and get the chance to develop my craft," she says.
Paying It Forward
Agatstein plans to pass on the valuable lessons she gained from Camp Broadway.
"This program has helped me, as well as so many other young kids looking for a place to perform with kind leaders," she says. "I look forward to the day I can work for Camp Broadway as a counselor, and have the same impact on theater-loving kids."
Register a Child Today
Registration is currently open for the 2020 Camp Broadway program at The Smith Center, which remains one of select sites nationwide to offer the initiative.
The Shining Stars Camp will run from 8:30 a.m. to 12:30 p.m., July 6 to 10. The Mainstage Camp will run from 9 a.m. to 5 p.m., July 13 to 17.