3/6/2020
Performances and Artists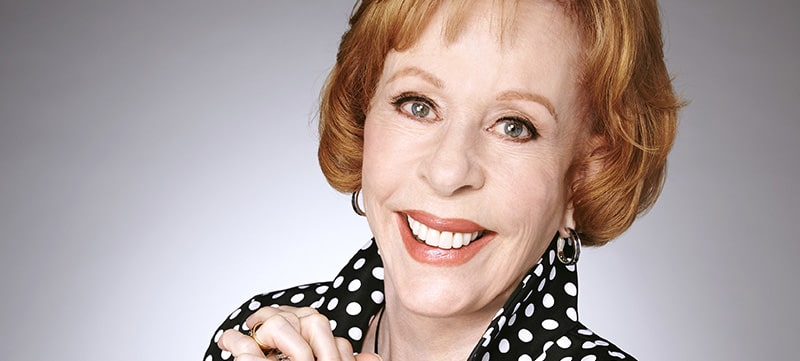 Comedy Icon Carol Burnett to Share Rare Stories of Her Life and Career
Comedy icon Carol Burnett still remembers CBS executives' response when she requested her own variety show.
"The network didn't want me to do it," Burnett recalls. "They said the comedy variety show was a man's game. It was Milton Berle, Jackie Gleason, Dean Martin."
But Burnett held her ground.
Her contract, held over from her years on "The Garry Moore Show," mandated for the network to give Burnett 30 episodes of a one-hour show, no matter what.
"They wanted me to do a sitcom, but I said, 'I don't want to be the same character every week,'" she remembers. "I wanted to have lots of characters and live music, and all the craziness of a variety show."
Little did Burnett know, she was making entertainment history.
"The Carol Burnett Show" lasted a celebrated 11 seasons, drawing 30 million viewers per episode and earning 25 Emmys, making it one of the most acclaimed television series in history.
Burnett will share rare insider stories and video clips of this beloved show during her visit to The Smith Center.
She will even conduct a candid Q&A with audience members.
"I don't know about the impact (the show had), but what we did prove was that a woman can host a comedy variety show," she says.
A Live Show Like No Other
Burnett takes great pride in how "The Carol Burnett Show" was unlike anything else on television.
This included elaborate comedy sketches that lasted 20 minutes or more, "like little one-acts," she says. Some sketches featured a full orchestra.
"We actually mounted a musical comedy revue every week," Burnett says. "I always wanted to do it as live as we could."
This meant to keep the cameras rolling, no matter what.
"If anything went wrong, we just kept going, unless the scenery fell down and knocked us out," she says.
A Favorite Memory
The most memorable elements of Burnett's show included the audience Q&A sessions that kicked off each episode.
The idea stemmed from an executive producer. Instead of warming up the audience with a comedian, he offered, Burnett could answer questions so "before you get into crazy outfits and become different characters, the audience can get to know you," she recalls.
One of her favorite memories even stems from this.
She recalls a woman who raised her hand and requested to sing, then jumped on stage and commanded the band to play "You Make Me Love You."
As she sang, Burnett joined in, much to the audience's delight.
"We had different thoughts of how to sing the finish, so we kind of petered out," Burnett remembers. "There was a pause, and she looked at me and said, 'Well, you screwed it up.'"
Continuing the Tradition
Burnett hopes to achieve the same unscripted, hilarious interactions at the audience Q&A at The Smith Center.
"I like to do (Q&As) because it keeps the old gray matter ticking," she says. "I never know what anyone is going to ask."
So she encourages people to participate.
"Come armed with a question," Burnett says.
"Carol Burnett: An Evening of Laughter and Reflection" is currently a part of the 2019-2020 season.