12/11/2019
Performances and Artists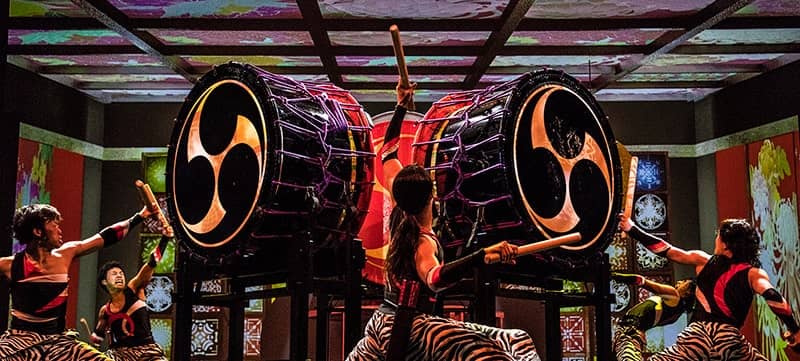 Bold, Modern Drumming
No doubt, Drum Tao offers the world's top taiko drummers.
That's because the over 40 members of the renowned performance group live together, secluded from civilization, at a remote house in the mountains of southwest Japan.
Outside of cooking and cleaning for themselves, these young men and women focus on one thing: practicing and rehearsing on ancient Japanese drums.
"It's very isolated, but that's ideal, because we can keep practicing all night long without bothering any neighbors," explains Taro Harasaki, Drum Tao's lead performer.
That said, audiences can expect far more than just drumming at Drum Tao's anticipated return to The Smith Center on April 11.
Hailed for its high-octane, visionary productions, Drum Tao electrifies Japanese artforms with eye-popping costumes, lavish set designs and bold, complex choreography.
Acclaimed as one of the leading taiko drumming groups today, Drum Tao has performed for over 8 million worldwide, including on "The Late Show with Stephen Colbert."
"What we want to do is more than just classical drumming," Harasaki says. "It's a very modern style and uses a lot of modern aspects in the show."
Ancient Culture, With a Contemporary Touch
Beyond entertaining millions worldwide, Drum Tao preserves an ancient Japanese artform.
Taiko drumming originated in Japan centuries ago in the military, until Japanese Buddhist and Shinto religions adopted it for sacred purposes. The taiko artform went on to permeate all aspects of Japanese culture, spanning theater and the imperial court.
Taiko itself simply means "drum," though the term now embodies the art of Japanese drumming.
Drum Tao honors this history by performing on a vast range of Japanese drums, including handheld snare drums and Odaiko drums that can weigh up to 3 tons. The group also incorporates additional instruments, such as the Japanese marimba, flute and harp.
Showcasing the results of their exhaustive rehearsing, Drum Tao's performers make headlines for playing with flawless synchronicity and athletic aggression.
They also enhance this with their own modern elements.
Drum Tao's performers personally compose the show's music with ferocious rhythms and infectious musical dialogue they believe audiences today enjoy.
Plus, they infuse dramatic and electrifying choreography ⁠— also created by the performers themselves ⁠— that keeps the stage surging with movement throughout the performance.
"Sometimes we didn't sleep and we composed all night long, and we did choreography all night long," Harasaki recalls of compiling the show.
A Little Vegas Magic
The group's top inspiration for its mesmerizing shows stems from Vegas itself, Harasaki says.
"Every year we go to Las Vegas as a company to study the shows," Harasaki says. "With some shows, you walk into the venue and you feel like you slip into another world. That's what we want to do."
From audience reactions at the group's sold-out shows nationwide, Drum Tao achieves this.
"Audiences can experience something they've never experienced before," Harasaki says.
Drum Tao was cancelled due to the COVID-19 pandemic. View updates here.