2/13/2018
Performances and Artists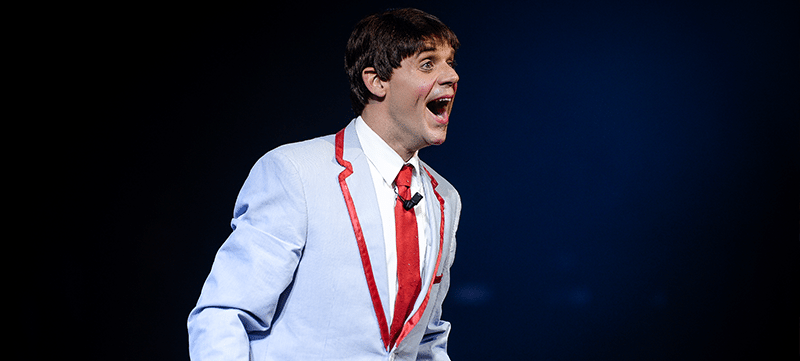 Bringing Laughter in Dark Times
As unlikely as it seems, the initial inspiration for Rob Torres' acclaimed live comedy show "Room to Play" came from 9/11.
Raised in New York, the award-winning comic artist and theater actor was traveling in England that historic day when he first heard his home city had been attacked.
Unable to book a return flight for weeks, his first task after landing in New York was to visit ground zero.
"I was just horrified by the sight," he remembers. "I just imagined what my friends in the city went through at that time."
If he could give New Yorkers a release from this pain for even an hour, he thought, it might help ease their suffering.
"I decided it was time to do something that was not based politically or biased with a slant or message," Torres remembers. "I wanted people to pause for an hour or two and just laugh."
Healing with Laughter
With this goal in mind, Torres created the beginnings of an original one-man comedy show, specifically to give special performances for New Yorkers after 9/11 and ease their emotional toll.
Relying on his extensive career as a New York theater actor and a performer with world-renowned circuses, he focused on delivering clean, delightful comedy that all ages could enjoy.
In the vaudevillian style of Charlie Chaplin, his performances relied on physicality and finding absurdity in simple tasks like setting the table – with not a single word spoken.
"I wanted people to just laugh about simple things and remembers simpler times, before technology and when we used our imaginations and just played," he explains.
He received enthusiastic response from New York audiences – so much that he thought he might try expanding this into a full show to share with others.
"I built this into the show that has resulted in me continuing to travel around the world and give people a pause from their everyday lives," he says.
A Simple Show Embraced Worldwide
Torres has since performed "A Room to Play" in more than 60 countries, receiving a glowing reception with every performance.
It's no wonder he has achieved such success. Torres trained in circus arts at the Ringling Bros. and Barnum and Bailey Clown College, and toured the U.S. with the Clyde Beatty Cole Bros. Circus.
His stage and TV career includes performing at Walt Disney World Resorts and leading venues like Cirque d'Hiver in Paris.
Torres believes "Room to Play" has such broad appeal not only because it has no language barriers, but because so many people find joy in his mix of pantomime, circus arts and slapstick.
"I build a little world on stage, and create an environment for people to play in," he says. "The idea is for adults to play again like when they were children, and for children to just come and have fun."
"Room to Play" was a part of the 2017-2018 season.