7/9/2019
Performances and Artists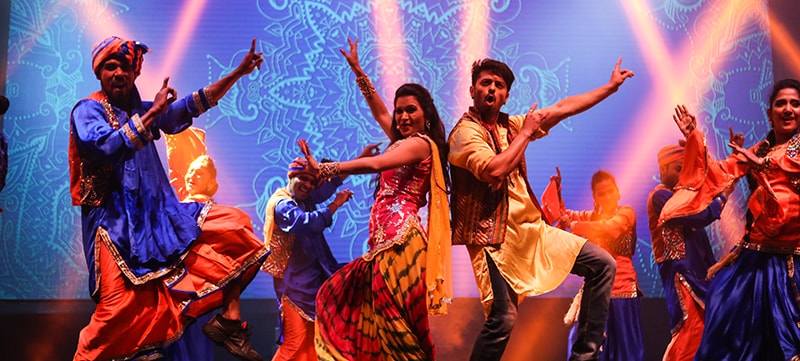 Indian Culture, High-Energy Dances and Stunning Costuming
Everyone knows what makes India's Bollywood films so addictive: The outrageously high-energy musical numbers.
Breaking out in almost every scene, these elaborate song-and-dance routines suck in audiences with dazzling costumes, infectious original music and athletic dance steps.
It's this same flashy and exuberant musical celebration that will be captured live on stage on October 8, in the anticipated return of Indian production "Taj Express," a Bollywood-inspired musical.
"Audiences coming to 'Taj Express' will have a taste of every (Bollywood-featured dance style), from Indian classical to hardcore Bollywood, Indian martial arts and hip-hop," says Ankush Dhawan, the show's chief assistant director.
Choreographed by a leading Bollywood choreographer, and featuring music by Oscar-winner A.R. Rahman ("Slumdog Millionaire"), "Taj Express" tells the story of an aspiring Bollywood music composer.
The storyline interweaves a dazzling array of dances, including the sizzling Bollywood dance style that merges hip-hop, belly dancing, jazz and Indian folk dances.
The goal of the production, Dhawan says, is to showcase Indian culture while keeping audiences wildly entertained.
"The country of India has a lot to offer," he says. "Music and dance are not only an integral part of any Bollywood film, but also an integral part of all Indian culture."
Showcasing Authentic Indian Culture
"Taj Express" delivers a fun, fully authentic experience, Dhawan promises.
This original Indian production features a large-scale cast hailing from successful Bollywood film careers, he says, many of whom have trained all their lives in classical Indian dance styles.
"There are performers who have learned Bollywood dance forms from the age of 6," Dhawan says.
The show also includes performances on stage by leading Indian musicians on guitar, flute and percussion, all of whom are "well known in their fields," he adds.
Audiences will also enjoy a mesmerizing world on stage, featuring 1,500 glittering costumes throughout the show.
"People can expect to get all the flavors of our country," Dhawan says.
Bringing India to the World
"Taj Express" has toured across Europe, the Middle East, Asia and North America — and received glowing reviews worldwide, Dhawan says.
"Over the last few years, India has come out on the world map," he explains. "The entire world wants to know about India."
That's why the cast remains passionate about delivering an electrifying show with every performance, he adds.
That includes the upcoming performance for Southern Nevada audiences.
"It's the want and desire to showcase (India) that is making all of us proud and hungry to be there," Dhawan says.
"Taj Express" was a part of the 2019-2020 season.