12/19/2017
Inside the Theater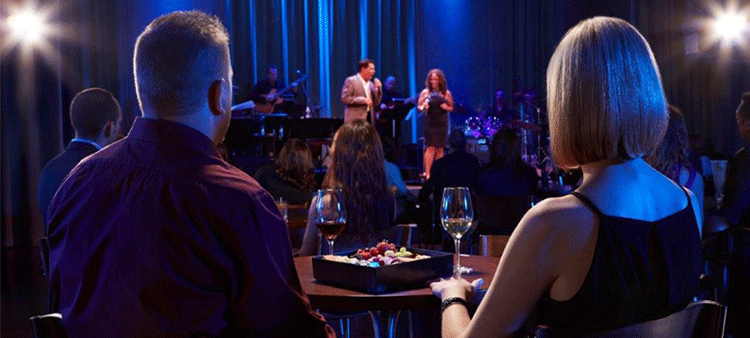 Choosing the Best Spirits to Complement Your Musical Meal
An ample beverage menu remains a popular draw at Myron's Cabaret Jazz, located in Boman Pavilion across from Reynolds Hall at The Smith Center.
Guests can indulge during each show in a wide assortment of handcrafted cocktails, import and craft beers, fine spirts and a full wine list.
The choices are as broad as the many artists to grace our stage.
Not sure how to pick?
Check out The Smith Center's recommendations below on pairing your drink with the singular styles of upcoming performers at this intimate, 240-seat club.
Artist: The Skivvies (January 26 and 27)
Drink: Korbel Brut Sparkling Champagne
This bubbly beverage matches the effervescent personalities of this high-energy duo that does it all —from arranging and singing genre-hopping mash-ups, to playing multiple instruments like the ukulele and electric cello.
This sparkling champagne is also low in calories… A high priority for these Broadway artists who perform together in their underwear!
Artist: Time for Three (February 2 and 3)
Drink: Enlightenment cocktail
This concoction is made of motley ingredients you might not think blend well, like Citron vodka, agave and egg white. But put these distinct tastes together, and you get a delicious treat.
String trio Time for Three offers this same eclectic recipe, performing a vast mix of genres spanning pop, country and hip-hop on violins and bass.
Just like the cocktail, Time for Three delivers a surprising thrill that will leave you craving more.
Artist: Paul Byrom (March 24)
Drink: Bailey's Irish Cream
Both hail from the Emerald Isle — and both offer a rich, velvety tone that goes down smooth.
It's not hard to draw a connection between the warming cordial and the jaunty vocalist, who creates an instant buzz with his lustrous interpretation of Broadway melodies, Irish ballads and matinee tunes from the '30s.
Artist: Madeleine Peyroux (May 26)
Drink: French Influence cocktail
It's impossible not to feel pure amour for this sultry jazz artist, who started her career at 15 singing with busking street musicians in Paris.
Like the cocktail — mixed with rye, ginger liqueur and lemon — Peyroux's purring vocals render listeners relaxed, content and dreaming of the city of lights.
Artist: Frankie Moreno (Ongoing monthly and bimonthly performances)
Drink: Jack Daniels Tennessee Whiskey
Anyone who has been to a Frankie Moreno concert knows the Las Vegas favorite will at some point take a shot or two or four of whiskey, to further buoy his stratospheric energy levels.
Try some shots of your own, and maybe you'll find yourself playing the piano upside down, too.
Find Your Drink and Groove of Choice
Check out the beverage menu at Myron's Cabaret Jazz and our specially curated lists of upcoming artists per genre, by clicking here.