9/20/2018
Performances and Artists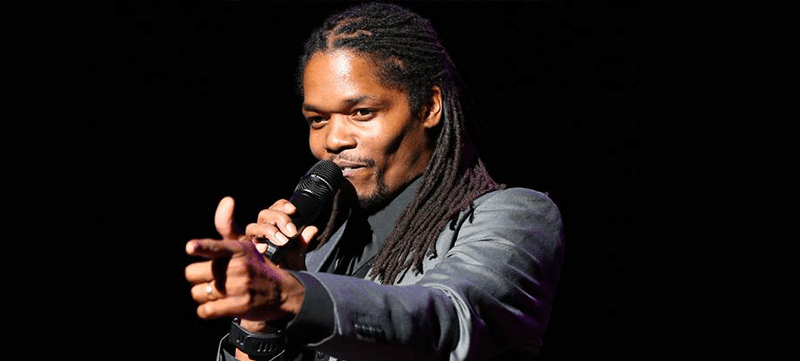 Landau Eugene Murphy Promises Uplifting Night of Classic Standards
Several years ago, Landau Eugene Murphy, Jr. hit something of a low point.
His band had broken up. He was working at a car wash and singing at open mics. To add to it all, he came home one day to find his home robbed, depriving him of even clothes and furniture.
"I went to my mother-in-law's house and sat and just started crying," Murphy remembers. "Then I had this epiphany. It was like God came into the room, saying, 'You need to find a bigger stage.'"
At that moment, he overheard a TV commercial about auditions for "America's Got Talent."
Deeming this divine intervention, he instantly signed up to audition.
Little did Murphy know, he would not only make it on the show, but he would become the Season 6 winner by crooning Rat Pack favorites and Motown hits with his silky vocals.
Since then, he has gone on to perform across the U.S. and around the world — including at Myron's Cabaret Jazz on October 5 and 6 — and he hails his big break on TV as turning his life around.
"Right now, being where I am in life, I'm so grateful," Murphy says. "We really can take all of our life experiences and turn them into great things."
Getting By with Music
Music has always been the crutch to help Murphy through tough times.
When he was a boy, his family moved from rural West Virginia to crime-rife Detroit, where he remembers witnessing gang violence even at playgrounds.
"I would sing songs to get me through that," he says. "I was one of those kids with headphones on and dribbling a basketball, just trying to stay out of the way."
While other kids listened to hip-hop, Murphy was hooked on Frank Sinatra and Motown, which he had discovered through television specials.
"I saw Nat King Cole performing and I thought, 'He's the coolest black man I've ever seen in my life,'" Murphy remembers with a laugh. "That let me know I could do anything."
Showcasing Talent on National Television
Murphy believes this life-long love for music helped him win "America's Got Talent."
"I had been singing since I was 3 years old, so it's like I was groomed for television," he says.
Standing out with his music selection of classics like "My Way" and "I've Got You Under My Skin," he never felt nervous singing for a national audience.
"I was just going through emotions that I'd already gone through most of my life," he says. "I never thought I was going to win. I was always rooting for my opponents."
Passing Strength on to Others
But win he did, which Murphy sees as an opportunity to inspire others, just as music did for him.
"The music I sing is uplifting," he says. "It's all about blue skies and friends and family, all those smiley-face type of things." 
His newfound celebrity has allowed him to deliver this positivity to unlikely places, including singing the national anthem at a Lakers game, touring in China and performing his own show at The Colosseum at Caesars Palace.
For his upcoming show at The Smith Center, Murphy promises an effervescent night of classic standards and Motown tunes – interspersed with a little comedy, to keep the mood light.
"As soon as I hit the stage, I pull out all of the excitement I've been holding in," Murphy says. "I want to feed the world happy stuff."
"Landau Eugene Murphy, Jr. Salutes Sinatra and the Magic of Motown" ran in Myron's Cabaret Jazz in October of 2018.