11/18/2015
Education and Outreach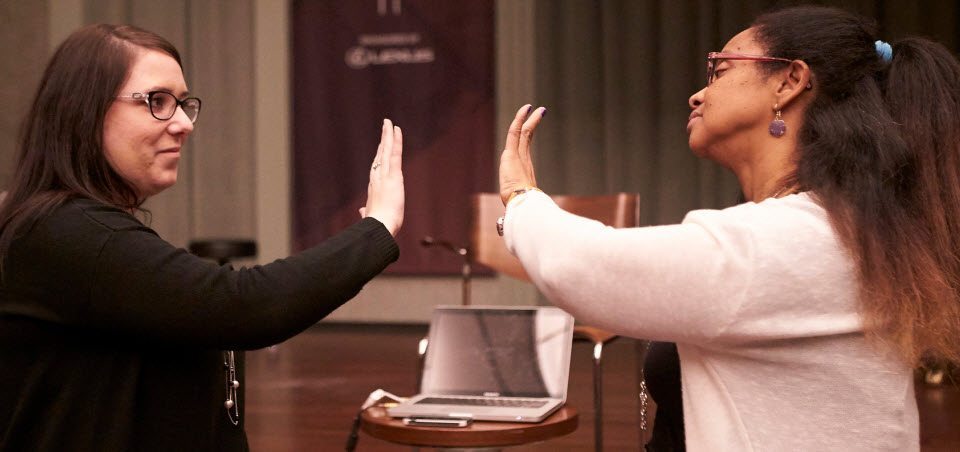 "It's late afternoon on a Tuesday in November, the day before Veteran's Day, in Cabaret Jazz. For the second consecutive night, more than 50 teachers who could have started a rare mid-week holiday after the last school bell rang have instead gathered for a professional development workshop to learn how to apply drama strategies for engaging their students and strengthening interpersonal connections in the classroom. Hosted by The Smith Center's Education and Outreach team, the teachers have been served sandwiches so they could skip dinner in order to be here, and now they're watching two actor-educators from LA take a moment to "genuflect," bowing to them in honor of their dedication to students in general, and specifically for setting aside unpaid personal time to attend the workshop.
Debbie Devine and Jay McAdams, the genuflecting creators and presenters of the Teaching as a Performing Art workshop, have no shortage of dedication themselves. They began producing plays inside a 1920s-era carriage house on West 24th Street in LA in 1997, and quickly realized 24th Street Theatre's destiny included outreach and education projects with the surrounding community. The experience, expertise and ease with which they conduct the workshop are well apparent, and the teachers respond with enthusiasm. That's due in no small part to the common denominator between today's theatrical hosts and educator guests: They are all motivated performers. Devine and McAdams are here to help them be the most effective performers they can be.
"The thing we love the most, and we've been doing it so long, is doing professional development for teachers," says Devine, 24thStreet's artistic director. "Because to be in a room with your spirit and your energy and your missionary work, and we know it's missionary work – oh, no, we're doing it for the money! I forgot – is an honor."
The joke draws a laugh from the teachers, who proceed to participate in a role-playing game that segues from a few random warm-up examples to improvised encounters between teachers, principals, parents and students. "My taxes pay for your salary!" says one teacher, hamming it up to the delight of her peers.
"I want all your time and all your energy!" says another, drawing bigger laughs.
"You guys are rocking this!" says Devine, having successfully broken the ice and allowed the teachers to comically vent a little.
"Teaching is a performing art, five days a week," adds 24th's executive director McAdams, driving home the gist of the workshop before moving onto the next exercises, which the teachers approach with relish. The one requiring the most imagination has them divide into groups of five then create stories via three freeze-frame tableaus of incidents that occur at school. The hilarious depictions of fire-alarm mischief, "runner" students and other lesser-rewarding responsibilities thrust upon teachers seem like they're coming from experienced improv performers.
That's because they are, having cultivated the skill through dedicated efforts to educate. Devine and McAdams end the workshop by asking teachers to declare out loud the reasons they became a teacher. One by one the answers come from individuals of all ages and backgrounds:
"So I could be the teacher I needed back then."
"Every child's voice should be heard."
"A love of learning."
"I wanted to use my heart, soul, and mind together."
"I love those "a-ha!" moments."
Maybe only the most motivated teachers are in attendance, but they can go back, share ideas, and impart enthusiasm. That's one goal of 24th Street's efforts as well as The Smith Center's professional development program, which focuses on arts integration and teaching in and through the arts. Whether it's theater, music, movement or reaching children on the autism spectrum through magic, whether it's visits to campuses or offering creative strategies through workshops, there's one shared objective, one thing everyone involved really wants – the best for the kids.