9/13/2017
Community Impact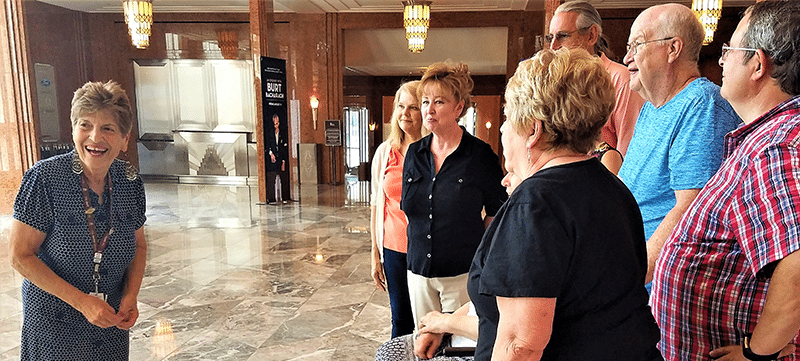 "First let me start by saying, isn't this just the most beautiful building?" Beverly Saperstein gushed as she welcomed a group in the Grand Lobby of The Smith Center.
As a volunteer docent with The Smith Center, Beverly was starting the first of two free tours she was giving that day.
She also often packs her weeks with volunteering at the Neon Museum, the Lou Ruvo Center for Brain Health, the USO and more. On the side, she works as a substitute teacher.
This is probably a good time to mention that Beverly is 80 years old.
Volunteering, she says, helps keeps her healthy and vibrant – especially giving tours at The Smith Center.
"The worst thing a senior citizen can do is stay home," the Las Vegas resident says. "They need to socialize, they need to activate their brains. When I do these tours, a great deal of study is involved, and I'm meeting so many kinds of people."
Statewide Recognition
Her effort hasn't gone unnoticed.
Serving as a role model for all ages with her enthusiastic volunteering, Beverly was recently named the 2017 Nevada Senior Citizen of the Year.
The annual award is given by the Aging Services Directors Organization and the Nevada delegation of the Nevada Silver Haired Congress.
The honor – helping raise awareness of seniors' community contributions – included a special award ceremony for Beverly, plus congratulatory awards from statewide officials including Gov. Brian Sandoval.
"I was so excited. I actually started to cry," she says of first learning she had won. "It's just been very, very exciting for me."
No Slowing Down
No doubt, Beverly has earned the honor.
Still in full health, she volunteers approximately 20 hours per week, and has done so for years.
She and her husband Jerry were even among the first volunteers at The Smith Center, before it even opened.
The performing arts center has remained one of Beverly's favorite organizations for volunteering.
"I love to give tours. If the people haven't been here before, it's like opening up the most beautiful world to them," she says. "Once I get here and I start talking to people, I come alive."
An International History
Beverly has a long history of being active and supportive.
She and Jerry have traveled the world together, even living in Munich, Germany for eight years during his career in the Army and Air Force Exchange Service.
She often helped newcomers with the military assimilate by giving them tours of landmarks and the city.
"I decided I was a born tour guide," she says.
The Benefits of Volunteering
Beverly often tells others of the many options to volunteer at The Smith Center.
Her husband volunteers as a greeter, and also provides information about The Smith Center at various community events. The couple also helps stock bags and programs for special events.
There are also many opportunities to volunteer as an usher at shows and student matinees, she notes.
"It's important to share joy with others," she says. "You get the joy back, many fold."
Get Involved
For more information about volunteering at The Smith Center, visit http://www.thesmithcenter.com/support-us/volunteer/