10/9/2018
Performances and Artists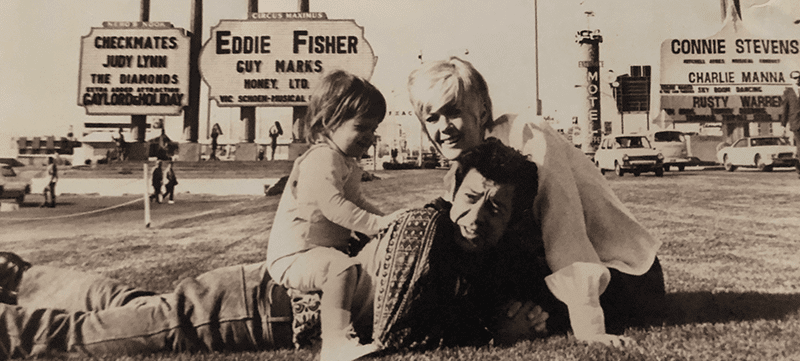 Stage-and-screen star Joely Fisher can sum up the nature of her childhood with one story.
The daughter of legendary entertainers Eddie Fisher and Connie Stevens, Joely's life has always been in the limelight — even at birth.
The day she was born in Burbank, California, her father was singing on stage at the New Frontier Hotel and Casino in Las Vegas.
Eddie decided to include his daughter's birth in the show.
"They brought a phone out on stage, and put it up to a microphone when the doctor smacked me on the bottom," she says. "The first sound I ever made came out on a Vegas stage."
This was just the beginning of Joely's fascinating life, immersed in the entertainment industry and growing up in the "fish bowl," as she puts it, constantly scrutinized by the public.
Now famous for her own acclaimed performances on Broadway and television — including co-starring on Ellen DeGeneres' hit sitcom "Ellen" — Joely recently revealed little-known secrets of her high-profile family life in autobiography "Growing Up Fisher."
"It poured out of me in a wonderful, cathartic way," Joely says, adding that the book spans topics like her family's addictions, her hard-won career successes, and her relationship with half-sister and film star, the late Carrie Fisher.
Intrigued? Joely will discuss these intimate stories live, on stage in her December 1 show at Myron's Cabaret Jazz.
In between, she will showcase her powerful vocals, singing a mix of contemporary, Broadway and pop hits.
"I'm bringing my book to the stage," Joely says. "It's me, it's raw and it's real." 
Growing Up Fisher
Much of Joely's childhood was spent running around Las Vegas casinos, she says.
"My mother and father played every casino in Vegas," she says. "I learned how to order room service before I learned how to do a lot of other things."
She absorbed a lot from her parents. Some of it was dark, like witnessing her parents' substance abuse from a young age, and some quirky, like learning her mother had dated Elvis.
Joely always knew she would be a performer, she adds, and her parents' fame even helped attract "interest and scrutiny" in her own career.
"In the beginning, people were interested in, 'Oh I wonder if she's beautiful like Connie, or can she sing like Eddie?'" she says. "But that didn't make (my career) easy. If it did, I would've always been working, and I haven't. That's why I turned to writing and directing."
Her greatest roles include starring as Sally Bowles in "Cabaret" on Broadway, she says, a role that "took hold of me and embodied me."
She also takes pride in co-starring through all five seasons of "Ellen."
"The show was just such a great, historic thing for television," she reflects. "We opened up the door for inclusive television, and paved the way for a lot of things we weren't seeing on television."
Stardom has significantly changed since her parents were famous, she notes.
"In my parents' day, there was more cultivating of careers. My mom, as a contract player at Warner Bros., they'd put her in a movie and have her do a record, and then a TV series," Joely explains. "I went through a time like any other actress today, who auditions and tries to make a career of bit parts and get a break."
An Evening of Great Hits and True Stories
In her upcoming show, Joely looks forward to performing "wildly different" songs that span a variety of genres.
She also promises not to shy from sharing any difficult or embarrassing anecdotes.
"I want people to feel freed by my candor. Like, 'Oh my God, she's laying it all on the line. Maybe I should tell my own story,'" Joely says.
Joely Fisher performed in December 2018 at Myron's Cabaret Jazz.