1/9/2018
Performances and Artists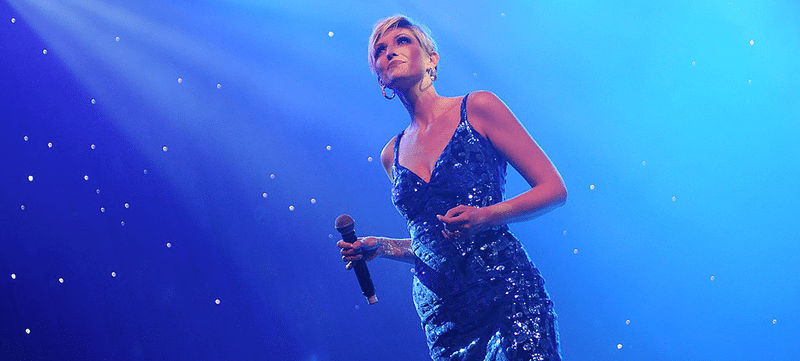 World-Renowned Tribute Show Brings ABBA Hits to Vegas
When Las Vegas vocalist Kirbi Jo Long first joined the national tour of "ABBA Mania," her costar issued a warning about the musical theater production.
"She told me, 'You won't even believe audiences' reactions until you go do it,'" Long recalls.
Her costar wasn't exaggerating.
Traveling coast to coast with this production showcasing ABBA's bevy of hits, Long has experienced up close how strong the fandom has remained for the legendary '70s Swedish pop band.
"Everywhere we go, people who come to the show are either decked out in ABBA garb or know every song," Long says. "It feels more like a rock concert than a theater performance."
This has made a strong impact on Long, who has sang around the world and opened for Top 40 pop stars.
Now she finally gets to perform this high-energy show – in which she and her costars perform scenes as the ABBA band members, on top of singing their electrifying songs – in her home town at The Smith Center on February 21.
"It's seriously the most fun I've ever had on stage," Long says with a laugh. "It makes sense to me now why ABBA is so big, and why people love them so much."
Performing Around the Globe
Long hails from an impressive performance career, including singing with the renowned USO Show Troupe, which she actually joined through her first audition ever.
Entertaining 600,000 service members and their families worldwide, this group gave Long life-changing opportunities, such as performing overseas, singing the national anthem at Yankee Stadium, and opening for Katy Perry and Tim McGraw.
"It was the smaller gigs that stick out in my mind as the most important, where we'd go to hospitals and visit veterans and current military personnel injured in Afghanistan or Iraq," Long remembers.
Long continues to perform with the USO, even after moving to Las Vegas in 2012 to sing in "Jubilee!" at Bally's Las Vegas.
Honored to perform in one of the city's most iconic shows, Long says "Jubilee!" helped her forge close ties with local performers.
This included a friend who eventually invited her to join "ABBA Mania."
"All of the opportunities I've had in Las Vegas have been because of 'Jubilee!,'" Long says.
World-Class Performers Honor World-Famous Band
Long isn't the only accomplished "ABBA Mania" performer.
Dean Balkwill, playing ABBA member Bjorn, has performed lead roles in Broadway shows, including "RENT" and "The Lion King."
Shelby Ringdahl, playing Agnetha, also performed in the USO Show Troupe and finished in the top 12 of the Miss America pageant.
While "ABBA Mania" is scripted, Long notes that the show feels much like a full-blown concert.
"People are standing and singing along, and we interact with the audience," she explains.
Although Long wasn't closely familiar with ABBA's music before joining the show, she's now officially a fan.
"I think ABBA spoke to every nation in the world because they were fun to listen to," she says.
"ABBA Mania" was a part of the 2017-2018 season.