5/2/2017
Broadway Las Vegas / Performances and Artists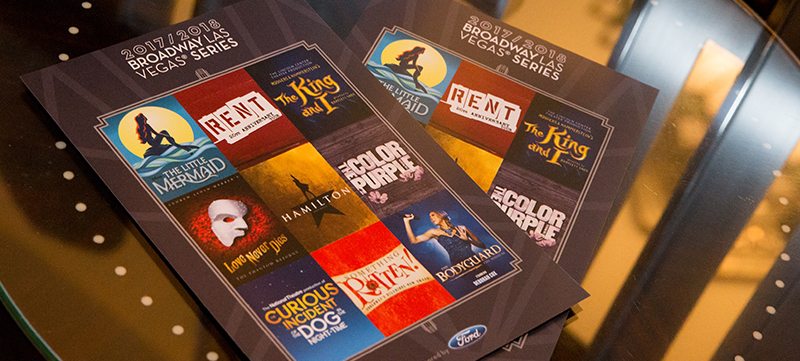 By: Alecia Westmorland, Smith Center Content Developer
The year 2016 marked a giant leap for me as a theater lover: I became a season subscriber to The Smith Center's Broadway Las Vegas® Series. It was my first time subscribing to any season, anywhere.
As elated as I was to receive all of my tickets to nine Broadway shows in one glorious envelope, I was still a little ignorant of everything involved with a subscription.
After several months as a Smith Center subscriber, however (and also after becoming a Smith Center employee), I've picked up on how to get the most out of this experience.
As an older and wiser subscriber, I'm happy to pass along some gems of wisdom for current and potential subscribers to consider.
1. Subscribers can upgrade their seats prior to each Broadway Series show
I wish I'd known this from the start! While I loved the deal I received on a subscription seated in the balcony section, I felt I might've enjoyed some shows more if I was closer to the action.
Little did I know, I had that option. Before each Broadway show, subscribers have a chance to pay for an upgrade to other seats – including coveted box seats – before those seats are released to the public!
2. Subscribers can change seats when they renew
You're probably aware that you pick your seat when you first purchase a season subscription, with that seat guaranteed as yours for every show in the season.
You might crave a change by the season's end, however. If that's the case, you can request to change seats when you renew (though this depends on seat availability for that season).
I'm glad I learned this before renewing my subscription for the 2017/18 season! While my balcony seat was fine, I've requested to change to a different section so I can try a different view.
3. Subscribers can customize their Broadway series
When I purchased my 2016/17 subscription, I felt a pinch of regret paying for all nine shows. I had already seen the third show, "White Christmas," and though I enjoyed it, I didn't feel a strong need to see it again.
Little did I know, subscribers can customize the shows included in their season series. In this case — also possible for the 2017/18 season — I could've picked just seven or eight shows in my subscription, leaving out any one or two I wished.
4. Subscribers can add on seats to shows
Without much family in town, I bought my subscription for one seat — for myself. That why when family wanted to visit and see a Broadway show with me, I would tell them, "OK, when tickets go on sale two months out, try to buy seats near mine!"
If only I'd known I can request to add seats next to mine for specific shows in my subscription! I'm planning to do this for "The Bodyguard," running in November, so family visiting for Thanksgiving can see it with me.
5. Subscribers are offered 20 percent savings on select non-Broadway shows
I admit I wasn't aware of this for many months, but subscribers are offered special savings on non-Broadway shows at The Smith Center throughout the year! I even took advantage of this recently to save 20 percent on a ticket to David Sedaris.