5/10/2018
Performances and Artists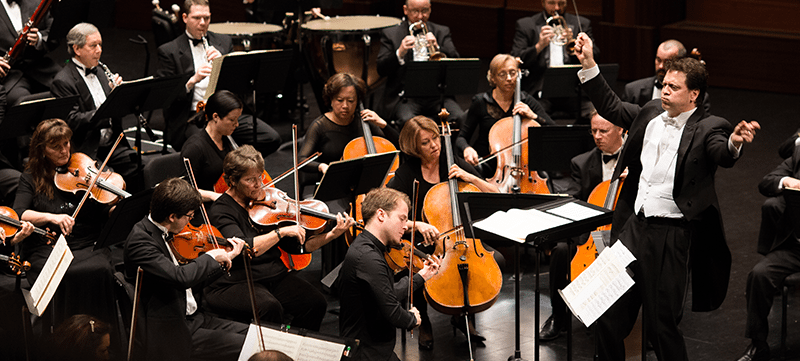 Las Vegas Philharmonic Music Director Creates Unprecedented Program
Little did Donato Cabrera know 30 years ago that a friendship he began as a teenager would eventually lead to a groundbreaking musical partnership.
It all began when Cabrera, now music director for the Las Vegas Philharmonic, attended Nevada's All-State High School Band in 1988. There, he first met fellow musician Evan Christ.
Even though Cabrera hailed from Reno and Christ from Las Vegas, they bonded over a common passion.
"We were both obsessed with conducting," Cabrera recalls.
As a result, the pair remained friends through the passing decades. Both worked hard to grow into highly regarded conductors, with Cabrera named music director of the Las Vegas Philharmonic and the California Symphony, and Christ eventually leaving the U.S. to become general music director of the Brandenburg State Theater Orchestra in Cottbus, Germany.
It was from Germany that Christ called Cabrera two years ago, with a surprise.
"He said, 'There's a supporter of the arts here in Germany, and she has this wonderful idea,'" Cabrera remembers.
The idea was to create a fellowship supporting a wholly unique artist exchange program – one in which Cabrera and Christ would each select a promising, up-and-coming soloist from their respective nations each year.
These soloists would then both cross an ocean to perform with the other conductor's orchestra.
"An American soloist would go and perform an American piece in Germany, and a German soloist would come to the Las Vegas Philharmonic to perform a German piece in the U.S.," Cabrera explains.
Naturally, Cabrera eagerly agreed to what would soon be dubbed in the U.S. as the American German Cultural Exchange Fellowship (and the Holtmann Stipendium in Germany), fully funded by German philanthropist Dorothee Hennings-Holtmann.
"It's the only fellowship of its kind that I know of," Cabrera says. "No other orchestra does this."
Bridging Nations with Music
Since Cabrera and Christ launched the cultural exchange in 2017, the impact is already evident, Cabrera says. 
"It's exciting because orchestras in the U.S. play German music in practically every concert, but in Germany, American classical music is actually not performed all that often," Cabrera says.
The first artists to receive the fellowship were American violinist Alexi Kenney and German violinist Tobias Feldmann.
Feldmann performed Beethoven's Violin Concerto in D Major with the Las Vegas Philharmonic, and Kenney played Barber's Violin Concerto with the Brandenburg State Theater Orchestra in Cottbus.
Cabrera is elated to continue the program this year with visiting German pianist Danae Dörken, performing Beethoven's Piano Concerto No. 5 during the Las Vegas Philharmonic's season finale on Saturday, May 19.
"I've known Danae since 2012," Cabrera recalls of meeting her during a youth orchestra trip to Germany. "Since then, she's become a really well-known soloist, so when Evan suggested her, I said, 'Yes, absolutely.'"
He expects many more talented artists to build their talents by taking part in this cross-cultural collaboration.
"It's all because of this friendship Evan and I have had now for 30 years," Cabrera says.