2/8/2018
Community Impact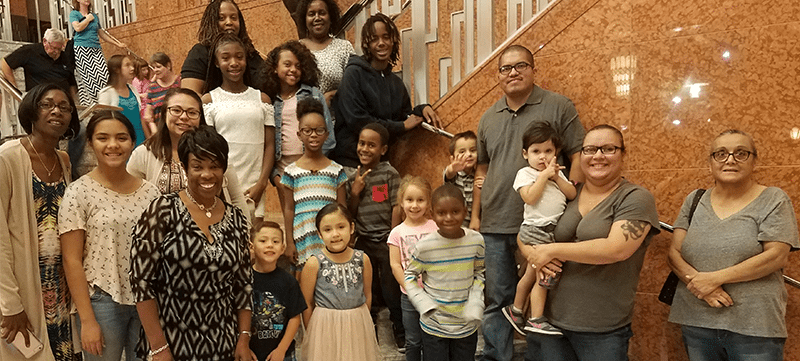 During Officer Regina Coward-Holman's childhood in historic West Las Vegas, going to the theater wasn't even on her family's radar, she says.
"We couldn't afford it," says Coward-Holman, a Las Vegas native and officer of 27 years with Las Vegas Metropolitan Police Department (LVMPD). "If something didn't come free, we didn't go."
Her exposure to many activities in her youth, including outings to concerts and movies, were only made possible through the generosity of her best friend's father, the late Municipal Judge Seymour Brown.
Being included in these special experiences made a tremendous difference in her upbringing, Coward-Holman says, which has stayed with her to this day.
"(Judge Brown) showed me things that I wouldn't have had otherwise," she remembers. "It made me want more. It made me strive and it helped me fit in."
This encouragement helped drive Coward-Holman to become a police officer and work in the same neighborhood of her youth, she adds.
She was also inspired by supportive officers in her neighborhood, who found her a job in security while she waited to start her career with LVMPD.
Empowered by these experiences, Coward-Holman has applied her role in law enforcement to organizing inclusive cultural and arts-based experiences for the downtown community.
These not only give families a positive interaction with law enforcement, she says, but they also provide low-income and at-risk youth with the same exposure to the arts that she once received.
"Now that I'm older, I have a greater appreciation for these experiences because I know they're not free. I know somebody was investing in me," she says. "Now I have the chance to pay it forward to someone else."
Catching a Show with the Cops
Coward-Holman's greatest successes with creating community cultural experiences through her role with the LVMPD includes organizing a special comedy night, featuring a performance by renowned comedian George Wallace.
LVMPD invited community members to enjoy the free comedy show alongside their neighborhood police officers.
Coward-Holman was thrilled when more than 1,000 Las Vegas residents attended.
"We had police officers in uniforms sitting next to regular people," she remembers. "The common denominator was laughter."
Beyond giving community members a refreshing entertainment experience, the event also exposed them to a more positive side of law enforcement.
"People tend to think of police as giving out speeding tickets," she says. "Now we have some people who can say, 'The police aren't bad — they took me to a show.'"
A Cultural Partnership with The Smith Center
Expanding on this success, Coward-Holman has been instrumental in forging a new partnership between LVMPD and The Smith Center.
Working with The Smith Center's new Community Arts Related Events program, Coward-Holman helps coordinate for Las Vegas police officers to accompany downtown families to live productions at the performing arts center.
Groups of downtown residents have attended several shows so far with police officers from their own neighborhoods. All of their tickets are subsidized, thanks to support from the Nevada Arts Council - Partners in Excellence grant.
Personally driving the families to the shows, Coward-Holman says many of them haven't experienced live theater before.
"It's letting police officers be a liaison with the community, and it makes a stronger community," she says. "It's win-win, because these kids build more respect for the police, and they become more rounded by getting to see something different in a new atmosphere."