3/30/2015
Education and Outreach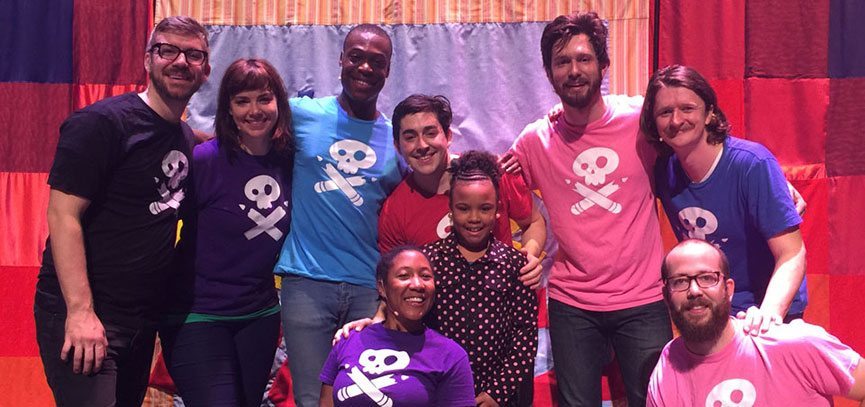 In late January, Reynolds Hall was filled with nearly 4,800 Clark County School District elementary school students for three days of performances by Story Pirates. This nationwide educational organization teaches children vocabulary development, story structure, revision, and confident self-expression through the process of storytelling.
"Story Pirates celebrates the words and ideas of young people. We believe that kids have the best ideas, so we turn their original stories into wild sketch comedy musicals featuring professional actors to show the kids how amazing their ideas are," said Gabe Jewell, a producer with Story Pirates.
In early November, participating elementary teachers attended professional development workshops in the Elaine Wynn Studio for Arts Education, where they learned creative writing techniques shared by Story Pirate teaching artists. Prior to the winter break, teachers worked with their students to develop compelling narratives using the workshop strategies.
"We were thrilled to have dozens of classroom teachers attend professional development workshops led by Story Pirate teaching artists back in November," said Candy Schneider, Vice President of Education and Outreach. "Teachers had the opportunity to learn creative writing strategies to take back to their classrooms to inspire and engage students in the writing process."
Participating teachers then selected representative stories written by students to send on to the Story Pirates for consideration.
To the delight of students and teachers, during the January engagement, the Story Pirates brought to life on stage six stories written by local authors along with a collection of stories written by young people from all over the country. Each skit was filled with creativity, imagination and humor performed by a troupe of very talented improv actors. The performances were highly interactive and captured the attention of the entire audience.
"This is just a wonderful opportunity for our students. It was so exciting to see the Story Pirates perform stories written by children from all across the country, but it was especially rewarding to see the performances of stories written by our local students," said Beverly Mason, Director of Clark County School District's School-Community Partnership Program.
Each school year, The Smith Center Education and Outreach Department presents a variety of matinee performances specifically designed for young audiences. These student matinees are made possible by a very generous gift from the Windsong Trust.