10/15/2020
Discovering The Smith Center / Retrospective Series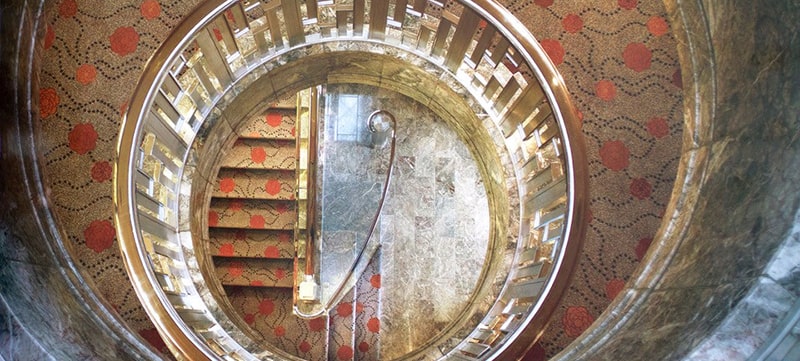 The Smith Center is widely recognized as a technical achievement in many ways, but did you know that going green was perhaps its greatest technical challenge?
"Designing a performing arts center is incredibly complex," says Smith Center President and CEO Myron Martin. "It is made even more complex when you set out to design one that meets the highest industry standards for energy efficiency and sustainability."
Yet creating a highly efficient and sustainable campus guided the project's entire design and construction process, from start to finish.
When it opened, The Smith Center became the first performing arts center of its size and scope in the country to have earned Leadership in Energy Environmental Design (LEED) Gold certification.
LEED is an internationally recognized certification system that verifies a structure was designed and constructed with green building techniques – and Gold certification marks the highest level a building can achieve.
Letting the Light In
Becoming LEED-certified usually means that you have to find ways to deliver natural light to your building's various spaces.
"Natural light is typically not something you want in a theater," says Martin, adding that 1930s art deco, the inspiration for Smith Center architect David Schwarz, is also not known for having much glass to let light in.
But the team was determined.
Approaching the building's design within a very modern context, the architects were able to successfully create a building that promoted natural, sustainable lighting through energy efficient windows – an amazing 373 in total.
Architectural wells were also added to allow natural light from above to pour into areas that would otherwise have little to none.
Even the center's dressing rooms were designed to have natural daylight coming in, something Martin says the artists really love.
Beyond the Light
To earn the necessary points to become fully LEED-certified, Smith Center designers looked at every other possible way to achieve energy savings, manage waste and lower operational costs.
For example, each of the more than 300 light fixtures in The Smith Center is custom-made, with LED bulbs to ensure that they will last for a very long time.
The center's HVAC system is designed to use less water for its cooling tower, and all of its operations systems are optimized for energy management.
Stone floors and walls were also used in the center's Grand Lobby because of the material's longevity and sustainability.
And water-wise restroom fixtures have also been installed to reduce water waste.
"Our LEED certification means that we have taken significant steps to reduce our environmental footprint, and we are extremely proud of that," says Martin.
The Road to Reopening
Due to public health and safety guidelines during the pandemic, The Smith Center has cancelled or postponed over 350 performances totaling more than $20 million in lost revenue.
As a nonprofit, The Smith Center needs community support now more than ever.
To help open The Smith Center's doors again, click here to support our Road to Reopening Fund.