10/13/2016
Supporting the Arts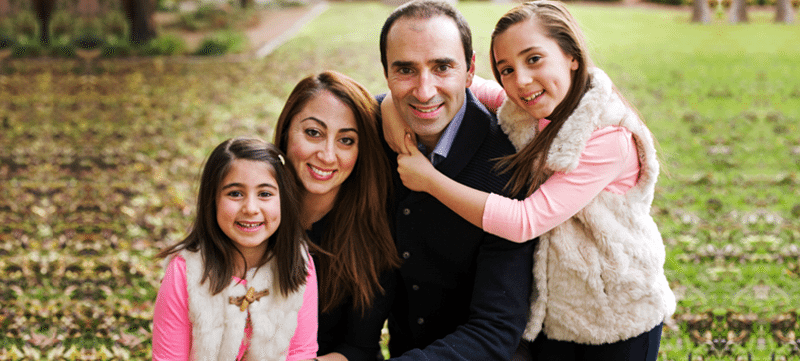 Nehme Abouzeid and Nina Mirzayan Abouzeid are long-time supporters of The Smith Center. Henderson residents for 14 years, Nehme is executive director of brand marketing and entertainment marketing at Wynn Las Vegas and Nina is a children's dentist.
They both came at the arts in different ways. Nehme is a Boston native who grew up going to places like the historic Wang Theatre and, later as a college student, Constitution Hall in Washington, D.C. Nina is a Southern California native raised in the arts community of Laguna Beach. She frequented festivals like Pageant of the Masters and attended shows at the Segerstrom Center for the Arts.
Nehme, you've had a lengthy career on the Strip booking and marketing shows, first at The Venetian and now at Wynn Las Vegas. How do you feel when you take in a show at The Smith Center?
Well, when I am at The Smith Center enjoying a show, I don't have to worry about selling tickets. What a relief! The Broadway Las Vegas Series brings New York City out West and I get to experience these great shows with my wife and daughters. I am fortunate to be able to get back East at least once per year, but not many people do.
And the Strip resorts, while we do put on some fantastic entertainment in our own right, do not replace a thriving performing arts center.
Once The Smith Center was unveiled, I told my wife that Vegas is on its way to becoming a "real city." Now with professional sports coming, it is nearly there. These organizations are becoming the pillars of a diverse metropolis of more than 2 million people. This is an exciting time for Las Vegas.
Why is supporting the arts in Las Vegas important to you? 
Writer Kahlil Gibran once wrote "pity the nation whose sages are dumb with years and whose strongmen are yet in the cradle." I've always interpreted that to mean that a city or nation is only as good as the people and institutions that represent it. Vegas can be assured that The Smith Center will give it a strong and vibrant performing arts core that will present thought-provoking programming, regardless of what type of entertainment is hot on the Strip at the moment.
Nina, what is your favorite aspect of going to Smith Center shows?
I enjoy the pre-show milling about in the foyer of Reynolds Hall. You see so many friends and people talk about arts and culture, and not about work and play.
What shows in recent past have you enjoyed most?
I enjoyed "The Nutcracker" and seeing the smiles on our daughters' [Celine and Layla] faces. I've always loved the ballet and these shows are a good way to instill that appreciation in my children.
Do you ever tell your patients about your favorite Smith Center shows?
Yes, after we saw "Giselle," I spent the next few weeks telling my young patients that we saw a ballet in Vegas that first premiered at the Paris Opera in 1841. How amazing!
What is next for your family and The Smith Center?
In addition to seeing "Beautiful" and other exciting shows, we plan on sending Layla to Camp Broadway next summer. She is the performer in the family. Every Smith Center show that we see expands her singing repertoire.
For information on how to support The Smith Center, click here.