10/27/2017
Community Impact / Education and Outreach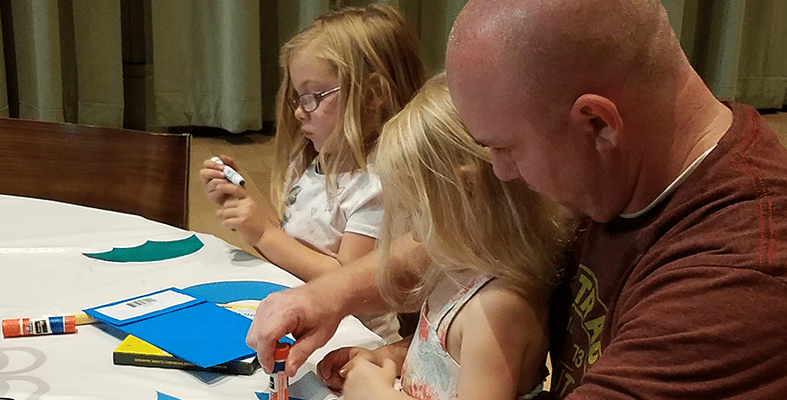 Sgt. Jared Lebaron sat with his 3-year-old daughter on his lap as they pored over brightly colored markers and construction paper, his 5 and 8-year-old girls watching close across the table.
"Let's add some eyes now," he said, helping her choose decorations for a paper puppet.
This quality time together was a long-time coming for Lebaron, a member of the Nevada National Guard who only recently returned from a two-year deployment in Kuwait.
"I won't lie, it's been tough. But we've managed to work through it," he said as his youngest added several more eyes to the puppet. "It's fun to do something like this with the kids. It's good family bonding time."
Lebaron and many other National Guard members from across Southern Nevada enjoyed an evening reconnecting with their families this month at The Smith Center, which hosted an arts workshop for military families in its Troesh Studio Theater.
After creating dinosaur puppets together, the families were treated to a pizza dinner and front-row seats to family show "Erth's Dinosaur Zoo" featuring larger-scale, interactive dinosaurs.
This is the first event under The Smith Center's new Community Outreach Performing Artists program, providing nurturing arts experiences for children of military parents in Southern Nevada.
The John Krakauer Charitable Trust advised by Professionals in Philanthropy.
Precious Time Together
Most of the participating families included a parent recently returned from overseas deployment.
"I think this is a fantastic opportunity for our military families. There's a lot of time that we spend apart from our service members, whether it be training, drill dates or deployment," said Nichole Nguyen, whose husband has been deployed nearly six of their 13 years together. "When we have opportunities to bring our families together, our husbands included in that, it makes a difference."
With two young children and a third on the way, the couple appreciates military focused events where they can include their little ones, Nguyen added.
"Having an opportunity where we can bring our kids to such a great venue where we may not have the opportunity otherwise, it gives us great pleasure," she said.
The Smith Center connected with the participating families through the Nevada National Guard Child and Youth Program, and Work for Warriors. Several volunteers from Ameriprise Financial assisted with the event.
1st Sgt. John Foster, who recently returned from deployment in Djibouti, Africa, said National Guard members and their families are a tight-knit group.
Beyond the precious time with his wife Tina and their daughter, son and niece, John embraced the chance to enjoy his fellow service members for a relaxed, entertaining evening.
"This is an opportunity to see our network of military families," he said. "All of these people are family."