11/21/2017
Education and Outreach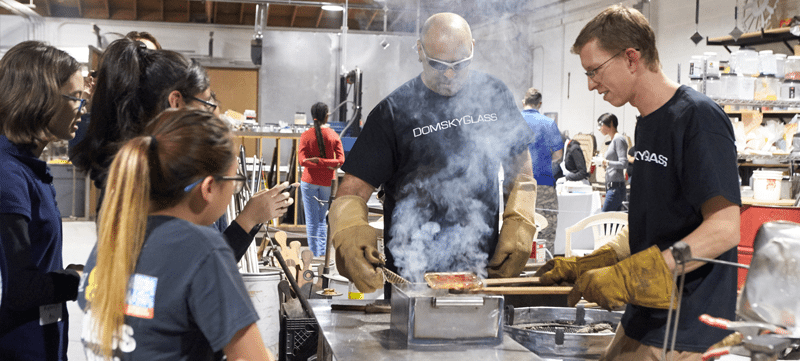 Promoting STEAM Education
The hot molten glass glowed a brilliant orange as Adam Frus ladled it slowly over a sand mold.
Just a few feet away, a cluster of middle school girls peered intently at his work.
"I want you all to pay attention to how the color changes," instructed Frus, a colleague of Domsky Glass. "Remember, this is a little over 2,000 degrees."
This was an educational experience the girls wouldn't soon forget.
The Smith Center partnered with Domsky Glass and Clark County School District in mid-November to provide 16 students from Cashman Middle School with hands-on workshops exploring the processes behind glass art, all at the glass studio in downtown Las Vegas.
The goal was to promote STEAM education, which incorporates art with the STEM disciplines of science, technology, engineering and math.
All participating students were recommended by art teacher David Vivo and science teacher Andrew Chicvara.
"I can't say enough about the importance of STEAM in helping promote student engagement and retention," said Candy Schneider, vice president of Education and Outreach at The Smith Center. "When students are free to apply complex STEM concepts through creative art forms, these lessons become personal and meaningful, and students are much more likely to retain that information."
Exploring STEAM Through Glass
There was no doubting during the workshops that glass art combines every element of STEAM.
Each creating their own glass art pieces, the students learned about the complex chemistry, tools and methodology of glass casting and cutting. Lessons spanned a variety of topics, such as complementary colors, crystallography, geometry and coefficients of expansion.
On top of this, the students explored the artistry behind glass artwork as they fashioned their own designs.
"There are really no wrong answers," Frus guided the students as they imprinted sand molds with patterns and shapes in preparation for casting. "Just play and see what works."
Six media students from Las Vegas Academy of the Arts were also on hand throughout the four-day experience, during which they captured every aspect of the young students' scientific and artistic discoveries with their own artistic medium of video recording. The media team's teacher Sim Delaney provided daily support.
Cashman student Ginella Santos, 13, said she was surprised by how many elements are required for creating glass art.
"You can never look at glass the same after this," said Santos, who hopes to apply STEAM concepts toward becoming a doctor one day. "It's so much work, but it looks so cool." 
Just Add Music
The lessons didn't end with glass. To add another artistic layer, renowned pianist Philip Fortenberry also performed in the background of the studio on a keyboard.
Fortenberry composed new music on the spot, taking inspiration from the glass casting. Three music students from Valley High School and Nevada School of the Arts worked alongside him.
"For us to come together and find harmony through myriad expressions and communications and for it all to come together in these art forms, it was a no brainer for me (to participate)," said Fortenberry, who has performed on Broadway and was Michael Douglas' hand double in HBO Liberace biopic "Behind the Candelabra."
Valley High School student Chris Kuhlemeier said they focused on channeling the scientific process and the creation of visual art through music.
This included playing the discordant tritone to convey glass breaking.
"It's amazing just to be in (Fortenberry's) presence," the 17-year-old said. "We're trying not just to interpret the students' work, but also the whole creative process into music."
Good for Girls
All students participating in the glass workshops were girls, to promote interest and participation in STEAM among female students, said Chicvara, Cashman science teacher.
"These students can do anything (with STEAM principles)," he said. "There are a wide variety of STEM careers, and the skills they develop in science and mathematics can easily be applied to something more artistic like this."
Barbara Domsky, co-owner of Domsky Glass, lauded how creative thinking can also elevate the capacity for problem solving.
"We have witnessed the students make the connection between science, technology, engineering, art and math through creative exercises," Domsky said. "In the words of one student, 'it is magic.'"
Switch proudly supports The Smith Center's connections to STEAM education.