5/24/2017
Education and Outreach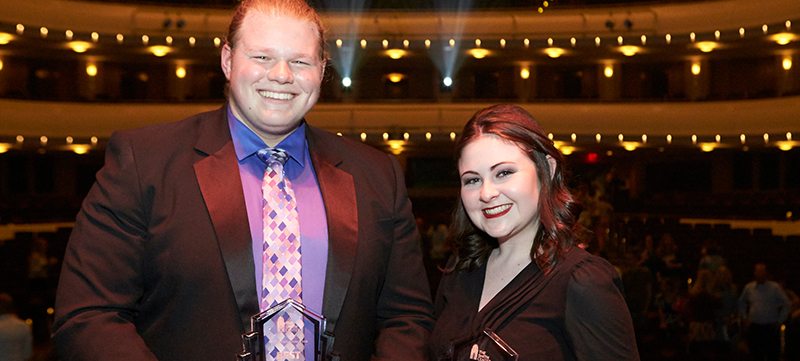 Nathan Sink had a few reasons to think he might not win the 2017 Nevada High School Musical Theater Awards hosted by The Smith Center.
First, Sink is better known as a football player at Centennial High School than a performer, as he just took the stage in his first musical ever this school year.
Second, he was just getting over a nasty case of strep throat.
"Right after (performing in my high school musical), I got that post-show sickness," Sink said at the competitive event on May 21. "I didn't feel too well at all."
His natural performing chops came through, though.
Sink received the Dr. Keith Boman Prize for Best Actor at the event that showcases solo and ensemble performances by the top musical theater students from Nevada high schools.
"When I heard my name announced, it was like a moment stopped in time. I didn't really expect it," said Sink, who performed an energetic rendition of "Not Today" from "The Addams Family." "Performing is something I just jumped into a couple years ago, and it's been a great journey."
This is just the start of the excitement for Sink and Adelynn Tourondel, this year's Best Actress winner from Green Valley High School.
Both will go on to compete in the National High School Musical Theatre Awards in New York City this June to represent the state of Nevada.
"I'm expecting to meet some very talented people," Tourondel said. "There are so many talented people in Nevada already, but going to New York, that's incredible."
Beyond competing on the Minskoff Theatre on Broadway, their complimentary 10-day trip will include housing at New York University, coaching and workshops with renowned professionals, as well as opportunities for merit scholarships and professional advancement.
Tourondel, who delivered a powerful performance of "Someone to Watch Over Me" from "Nice Work If You Can Get It," said her theater teacher has groomed her by giving her progressively complex roles.
"I started as Amaryllis in 'The Music Man' in the eighth grade, and then from there it built up," she said.
Her favorite role to play, Mother Superior from "The Sound of Music," might surprise those who know her, she added.
"It's funny, since I'm kind of little and pretty shy, and she's a pretty big character," Tourondel said.
Marking the fifth year The Smith Center has hosted the Nevada High School Musical Theater Awards, this year's event included performances by 17 students from nine Nevada high schools.
The event serves as a valuable learning experience for tomorrow's performers, as each competitor receives coaching from high-profile performers such as actress/singer Susan Anton and composer Keith Thompson.
"Competing in this event has taught me a lot," Sink said. "There's a lot more work for me to do, but I want to do it."
The event also honored Nikole York and David Wade, both from Las Vegas Academy of the Arts, as recipients of this year's Spotlight Awards. They will serve as alternates at the national competition, if Tourondel or Sink are unable to attend.
With each student judged on singing, characterization and stage presence, this year's judges included Torrey Russell, Kristy Love, Christine Hudman, Nicole Pryor Dernersesian and Tracey Langran Corea.
CEO and President Myron Martin, who emceed the event with Vegas headliner Clint Holmes, emphasized how this event promotes the importance of musical theater in schools.
"Two of these students are going to Broadway, at least this summer, and who knows what happens from there?" Martin said. "Those two or any of the other students could end up on Broadway someday. I'm really excited for the kids we're producing right here in the state of Nevada."