9/26/2018
Discovering The Smith Center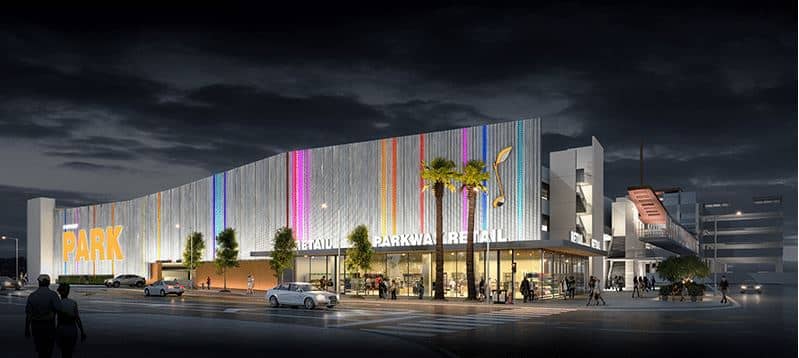 The City of Las Vegas has special plans for the two parking garages it's constructing on the east and west sides of The Smith Center, revealed Mayor Carolyn Goodman at a recent groundbreaking ceremony in Parcel B of Symphony Park.
A $33 million project, the two four-story garages will feature design elements carefully matched to the aesthetics of their surrounding buildings, including The Smith Center.
In addition, the garages will bring nearly 30,000 square feet of new, ground-level retail space to the 61-acre Symphony Park in downtown Las Vegas.
"Today we're breaking ground on two new garages that are going to provide much-needed infrastructure for new developments coming to our Symphony Park," Mayor Goodman said, citing how the area will also see construction of two residential complexes in 2019, with the neighboring World Market Center planning to add new convention space. "Downtown is truly lighting up."
The new garage to the west of The Smith Center, located off Grand Central Parkway across from the Discovery Children's Museum, will feature 694 spaces and 23,370 square feet of retail space.
The garage under construction east of The Smith Center, located off City Parkway, will offer 569 spaces and 5,841 square feet of retail space.
The garages are scheduled for completion in August and September 2019, respectively.
City Councilman Cedric Crear, representing Ward 5 that encompasses Symphony Park, lauded how the garages' retail space will provide new amenities to attract more downtown visitors and residents.
"We want walkable streets with restaurants, shops, bars and places for our residents and visitors to enjoy themselves," Crear said. "Can you imagine strolling through Symphony Park on a beautiful fall evening, maybe grabbing a bite or a drink and then catching a show at the beautiful Smith Center?"
The ongoing development of downtown Las Vegas, especially at Symphony Park, will also spur new jobs, Crear added, supporting his new jobs initiative for the area, Ward 5 Works.
"We'll be working with our Economic and Urban Development staff to ensure we have employment plans in place," Crear said.
An Arts-Inspired Design
The project contractor, Whiting-Turner, is constructing the new garages to "architecturally tie in with all of (their) surroundings in Symphony Park," said Zachary Crane, company vice president.
The garages' designs includes color accents that contribute to both garages as art pieces, for instance.
These vivid color palettes are specifically inspired by Tim Bavington's Pipe Dream sculpture, fronting The Smith Center.
Just like the sculpture, steel structures in a galvanized screen on the garages will be colored and arranged in a music-inspired pattern.
The garages will also feature galvanized metal profiles, paying homage to the metallic accents on The Smith Center façade and the metal exterior of the neighboring Cleveland Clinic Lou Ruvo Center for Brain Health. 
Crane noted that the project will also include a bridge from the new west garage connecting across the railroad tracks to the existing garage at 500 S. Main Street.
"This will bring the community and Symphony Park together," Crane said.