10/21/2020
Education and Outreach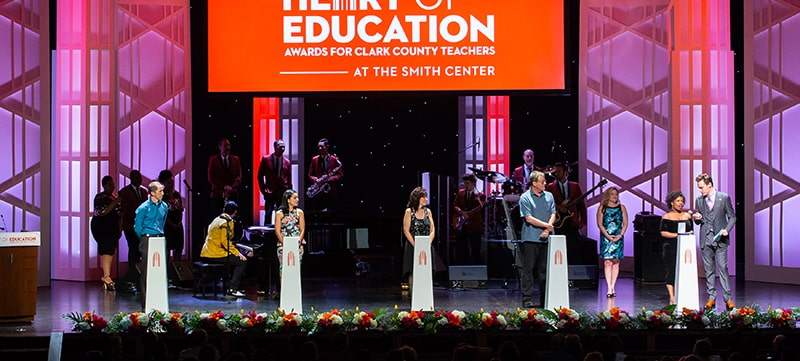 Nominations opened this week for The Smith Center's sixth-annual Heart of Education Awards, recognizing outstanding Clark County School District (CCSD) educators who go above and beyond for their students and schools.
And Southern Nevadans have especially good reason to appreciate teachers this year.
"We've always known that our teachers are superheroes," says Myron Martin, Smith Center president and CEO. "Now with online learning requiring even greater mental effort and preparation, our teachers are having to be more resilient, innovative and imaginative than ever before."
Anyone can click here to nominate a CCSD teacher, a process that takes five minutes.
Many students, parents and peers can likely think of educators who have gone to extra lengths in recent months.
Since the pandemic struck Nevada, teachers continue to rally in unprecedented ways.
CCSD teachers rapidly adapted to teaching with virtual classrooms for distance learning. Many find ways to support and encourage students from a distance, including virtual musical sessions, Google Hangout discussions to talk through feelings on current events, and congratulatory signs left on the doorsteps of graduating seniors.
"Teachers do more than educate these future citizens," says Elizabeth Harris, a past award recipient and teacher with Lied STEM Academy. "Teachers give them hope."
Cash Awards and More
Hundreds of award finalists will be recognized in the spring of 2021, with details to be announced at a later date.
The top 20 teachers will each receive a $5,000 cash award, as well as a $1,000 donation to a school program of their choice.
As a past award recipient, Harris says simply being nominated can make hardworking teachers feel renewed.
"The nomination letters that the teachers receive literally revive us and help us to continue what we do," she says.
The nomination period ends at midnight on Jan. 15, 2021.
The Smith Center will invite nominated educators to share personal accounts of how they positively impacted their students, classrooms and communities. A group of community leaders and education experts will review all submissions.
The Smith Center, a nonprofit organization, created the Heart of Education Awards in 2015 to promote recruitment and retention of public-school teachers. The awards program is made possible by a long-term commitment from The Rogers Foundation.
Harris underscores the importance of showing teachers how much the community values their dedication.
"Teachers love, counsel, feed and clothe their students," she says. "Teachers are some of the most caring, dedicated and hardworking people I know."
Nominate Today
Click here to nominate outstanding Clark County School District teachers for The Smith Center's sixth-annual Heart of Education Awards.