4/27/2015
Supporting the Arts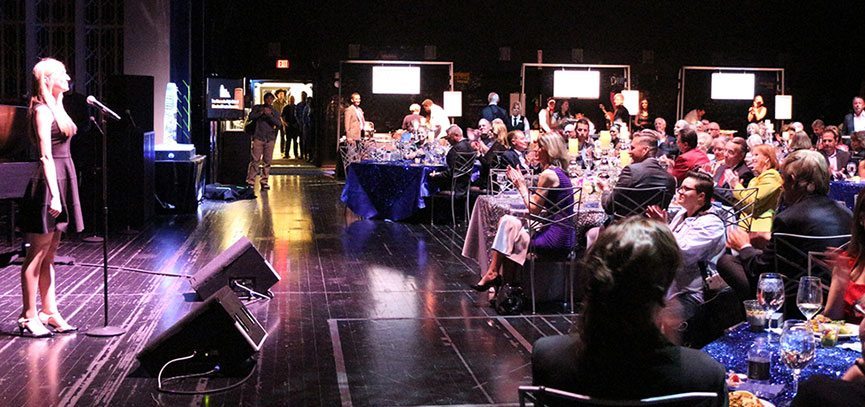 On Wednesday, April 22, Reynolds Hall was the scene of a glittering evening – The Smith Center's annual Chairman's Celebration. The evening was held in honor of the center's founders, board leadership, advisors and community members who believe in and support the transcendent power of the arts to celebrate that Las Vegas has become a leader in performing arts presentation, education and creativity.
Upon arrival, guests first stepped onto a distinctive Breguet blue carpet before they walked to a stage complete with sparkling tables and display cases featuring elegant timepieces. As guests mingled, libations including the evening's specialty cocktail named the Tourbillon, which paired gin, strawberry and thyme-infused simple syrup, flowed. Beyond the stage, the five-tier audience chamber made for a stunning backdrop.
Guests enjoyed an opportunity to mix and nibble while experiencing old and new favorites with a 'Downtown Dine Around' provided by some of Las Vegas' most popular restaurants and eateries, which included Siegel's 1941 at El Cortez, Oscar's, Triple George Grill, The Perch, La Comida, Bar+Bistro, Nacho Daddy and Rachel's Kitchen.
With guests seated at their tables, Myron Martin, The Smith Center president and CEO, introduced Brooke Solan, the first entertainer of the evening. In May of 2014, Solan was named Best Actress of the Nevada High School Musical Theater Awards – one of the many education initiatives made possible by generous donor support. The high school junior showed talent far ahead of her age as she performed "Vanilla Ice Cream" from the 1963 musical "She Loves Me." Interestingly, Hal Prince directed the original production of "She Loves Me," which starred Barbara Cook. Prince will take to the Reynolds Hall stage next month on the 14th and Cook is a two-time alum at The Smith Center.
The incredible entertainment was capped off by a four-song performance by Broadway alums and Las Vegas headliners Kristen Hertzenberg, Niki Scalera, Brandon Albright, Kelli Andino, Joey DeBenedetto, Gary Kilmer, Jeff Leibow and Joan Sobel singing vocals, along with violinist Taras Krysa. They provided guests a sneak peek of new stage production IDAHO! The Comedy Musical. Extraordinary pianist and IDAHO! composer Keith Thompson accompanied the cast on "The Boys are Never Put Out (Because I Do)," "A Cabin on a Hill," "Instead" and musical title song "Idaho!." IDAHO!, which features book and lyrics by Buddy Sheffield and music by Buddy Sheffield and Keith Thompson, will close out the 2015/2016 Broadway Las Vegas season.
Throughout the evening, guests were able to view a collection of beautiful Breguet timepieces, including the award-winning Breguet Classique Chronométrie, which is the current holder of the illustrious title of Aiguille d'Or by the Grande Prixe d'Horlogerie de Genève (GPHG), the Oscars for the watch industry. This revolutionary watch is the only timepiece designed with magnetic pivots to protect its movement from magnetism and to increase precision. For the ladies, Breguet featured a Reine de Naples Cammea watch with matching jewelry set. This collection pays tribute to the ancient art of cameo carving on seashells in a collection created in homage to Queen Caroline Murat of Naples, for whom the first wristwatch in the world was created in 1812 by Abraham-Louis Breguet.