5/30/2018
Education and Outreach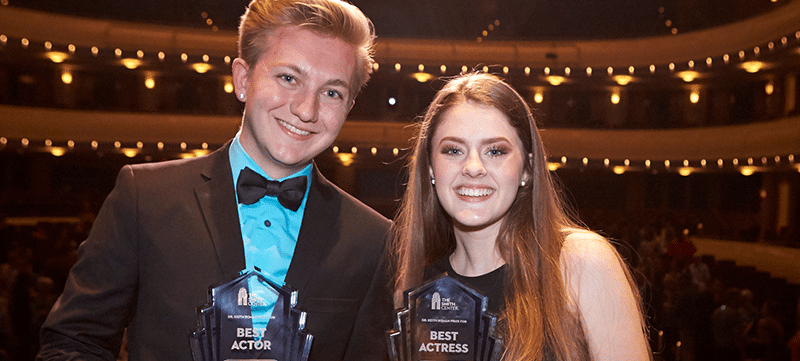 When Las Vegas Academy senior Cole Duffy earned the role of a Marine in his school production of "Dogfight," the 18-year-old took it seriously.
To fit the part, he shaved his head and started a strict weightlifting regimen. He researched the Marines lifestyle, including speaking with a retired Marine about the sacrifice and camaraderie in the military.
"My favorite thing about theater is the opportunity to step into other people's lives," Duffy says.
It's this dedication that likely helped Duffy earn the Dr. Keith Boman Prize for Best Actor this month at The Smith Center's sixth-annual Nevada High School Musical Theater Awards.
The event featured highly skilled solo and ensemble performances by the top 24 musical theater students from 14 schools across Nevada, all of whom performed on stage in Reynolds Hall.
"When they opened the (Best Actor) card and called my name, I was blown away. Just getting to perform at The Smith Center was an honor," says Duffy, who won with his performance of "Come to a Party."
Ahnaleisa Hodges, a junior from Centennial High School, earned the event's Best Actress award, after her show-stopping performance of "All For You" from "Seussical The Musical."
Hodges says this experience has helped her decide to pursue musical theater as a profession.
"I've been skeptical about pursuing it, because of the struggles of being a performer," she says. "But after this, I've decided I'm willing and strong enough to go through that."
On to Broadway
The excitement for these young performers is just beginning.
Hodges and Duffy will both experience a 10-day, complimentary trip to New York City this June, where they will represent Nevada and compete on a Broadway stage at the national Jimmy™ Awards (formerly the National High School Musical Theatre Awards).
The trip will also include complimentary housing at New York University (NYU), coaching and rehearsals with renowned theater professionals, and attending a Broadway show where they will meet the cast.
"It's everything and more than I could have dreamed," Duffy says, adding that NYU is his top college choice. "I couldn't be more grateful for these opportunities I've been given from my school and The Smith Center."
The students' trip is made possible by donor support for The Smith Center, a nonprofit organization.
While Hodges expects the Jimmy™ Awards' daylong trainings and rehearsals will be taxing, "I know it will help me learn more about performing and myself as a performer," she says.  
Seasoned On Stage
Both of the young performers already have impressive résumés.
Spurred by his father, an Elvis impersonator, Duffy performed in his first community theater production at age 8 and has since participated in community theater and taken dance lessons for years.
"I've found my passion in life and I have every intention to run with it for as long as I can," says Duffy, who graduates this week and will attend either the University of Oklahoma or NYU to study musical theater.
Also hailing from a musical family, Hodges has not only starred in several school productions, but also performed with her musician father and in her church performances.
"It's honestly the thrill (I enjoy). Some people like to cliff dive, some people do zip lines, I love getting up on stage," says Hodges, who is exploring colleges in Nevada and California.
She looks forward to building on her success as Best Actress, she adds.
"Winning was a very fulfilling thing, because I worked so hard and it paid off," she says.