9/5/2017
Performances and Artists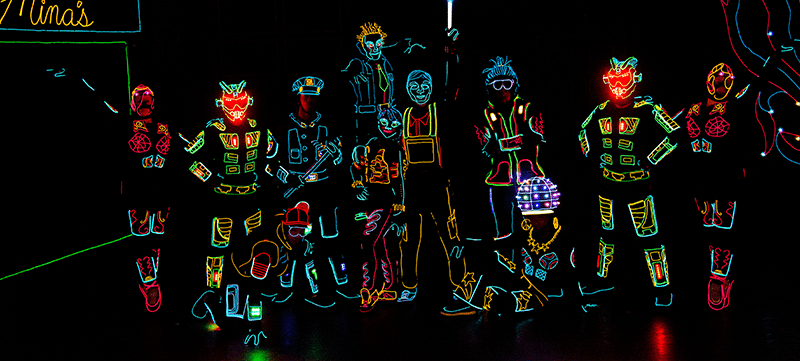 Earning a worldwide following since its electrifying performances on "America's Got Talent," dance group iLuminate has broken ground with its fusion of high-energy dance styles and cutting-edge, glow-in-the-dark technology.
Many may not know the inspiring story behind this visionary show, however.
"It really all starts with (iLuminate creator) Miral Kotb's love of dance and technology," says Timothy Dorey, iLuminate's technician and marketing manager.
Two Great Loves
A true renaissance woman, Kotb pursued both passions throughout her youth. Attending college at Columbia University, she earned a degree in computer science while also studying dance at Barnard College.
Although she worked for Bloomberg writing code after graduating, Kotb still felt the tug of the arts.
"She initially planned to pay off her school loans in her first year working at a conventional job, and then leave to pursue dance professionally," Dorey says.
Interrupted Plans
Kotb unfortunately had to sideline these plans when she was diagnosed with cancer, requiring invasive surgery.
When the cancer returned afterward, she underwent aggressive radiation therapy that left her unable to walk.
This followed with years of physical therapy and training, with Kotb eventually regaining mobility.
"She would never recover the ability to follow her dreams in a career dancing professionally," Dorey notes.
Overcoming the Worst
Kotb didn't allow this to slow her down.
Even if she couldn't step on stage herself, she imagined a show no one had ever seen before.
"She had a vision of dancers wearing costumes that illuminated wirelessly to complement the music and choreography," Dorey says. "The wireless technology could be controlled from the palm of one's hand."
Working alongside leading hardware and software engineers, Kotb brought her vision to life, developing all-new patented technology.
"Developing iLuminate was the perfect way for Miral to combine her uniquely different worlds and follow her true passion," Dorey says.
Lighting Up the Stage
Incorporating glow-in-the-dark technology with dance has posed some challenges, Dorey admits.
Dancing in the dark requires tremendous discipline, not only with hours of rehearsals but also in preventing any deviations in steps during performances.
"Most dance acts with partners require a certain level of trust, but since this is in the dark, it brings it to a whole new level," Dorey says. "The old saying 'practice makes perfect' couldn't ring more true."
The show's world-renowned dancers and expert technicians collaborate on developing choreography that fits with Kotb's bright and fluid technology, Dorey adds.
"Pairing that patented technology with our amazing dancers creates a truly one-of-a-kind entertainment experience that you can't get anywhere else," he says. "We think it opens up a whole new world for dance, and judging by some of the more recent similar acts that are trying to enter the space, we'd say it's here to stay."
iLuminate was a part of the 2017-2018 season.