3/17/2017
Education and Outreach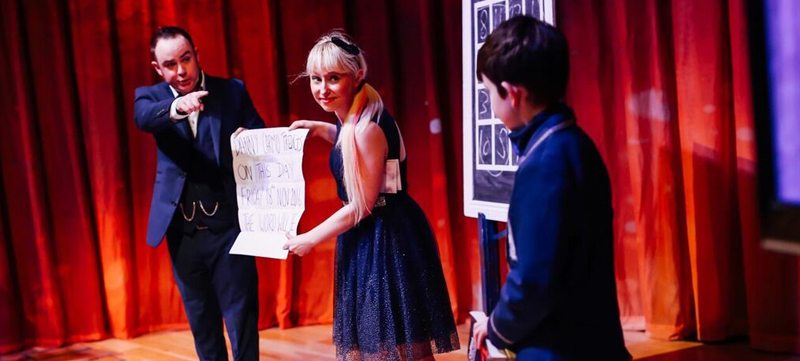 Anyone who said math can't be fun never tried it with a magic wand.
A total 2,200 elementary students from 23 local schools got a taste of using math as they never had before this month, when they attended matinee shows of "Lights! Camera! Math!" at The Smith Center at no charge to schools.
The innovative children's show incorporated magic, theater and digital technology to engage children in applying math principles in entertaining ways.
This included "mathemagician" Danny Carmo using fractions to cut a box into even fifths (with his assistant inside), and helping children count money to shop at a store in a floating trap door.
The show even offered an international element, starring performers from Northern Ireland theater company Cahoots NI.
"Not so long ago, I thought school and math just weren't for me," Carmo confessed to the audience as he took apart a string and pieced it together again. "Then I became a magician, and I realized I did need math to do magic."
Fully interactive, the show involved students in solving problems woven into elaborate magic tricks.
Children assisted in adding sums that corresponded with a numbered sword box — again containing Carmo's assistant — with the children gasping as he slid steel swords inside.
They even absorbed lessons about probability as Carmo read audience members' minds.
Every illusion involved interactive digital displays alongside the stage.
All of the students also received free books about incorporating math into magic, followed by venturing to the Discovery Children's Museum next door to participate in mathematical workshops.
"The kids were engaged and had a wonderful time," said Rhonda Breit, third-grade teacher at Sunrise Acres Elementary School. "Sometimes they see math and think 'Oh this is boring, why do I need to learn this?' (Carmo) was able to show them how they could use math in a lot of different, fun ways."
Breit plans to chat with her students about Northern Ireland, too, to better understand where the performers originated.
"I might get some questions about why his speech sounded different from what they usually hear, because they've probably never even heard that accent," she said.
Nine-year-old Zane from Journey Education was eager to discuss the tricks he learned in the show.
"I've never seen a math trick before, I've only seen normal magic," he said. "This definitely makes math a lot more fun. I really like math even more now."
The Smith Center hosts student matinees throughout the year, made possible by generous donations.
To learn more about The Smith Center's Education and Outreach programs, visit: http://www.thesmithcenter.com/education/education-outreach-programs/