8/10/2018
Performances and Artists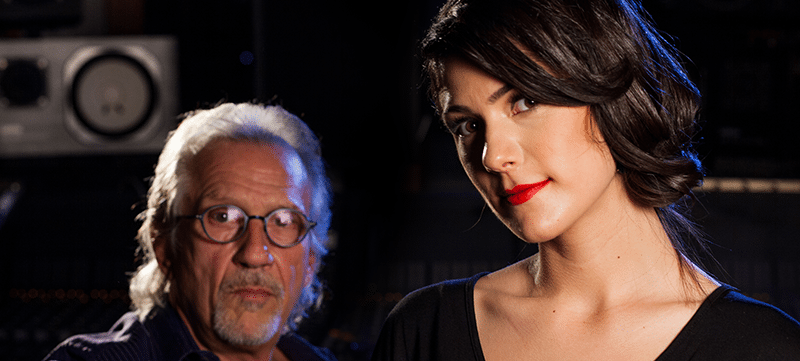 Jazz and Folk Originals Come to Myron's Cabaret Jazz
Many know Sara Niemietz best as a featured artist with global music sensation Postmodern Jukebox, especially since she performed with the group for a PBS special at Myron's Cabaret Jazz in 2017.
But this talented singer-songwriter with haunting vocals has actually been lighting up the stage and screen with entertainment titans since she was a toddler.
Her first public performance came at just 4 years old at a BJ Thomas concert, where the music legend saw her singing in her seat and pulled her on stage for a surprise duet.
"I knew at that moment, 'This is what I have to do. Perform in front of people,'" Niemietz remembers.
To say she ran with that instinct is an understatement.
Just a few years later found Niemietz co-starring with Carol Burnette in Broadway show "Hollywood Arms" directed by Broadway legend Hal Prince – who Niemietz took to calling "Uncle Hal."
"They were so nurturing and kind to me, but at the same time it was clear you weren't going to get away with anything because you were a kid," she remembers. "I was expected to be as on time and prepared as everyone else, and that work ethic really stuck with me." 
This philosophy has resulted in her touring around the world, both with Postmodern Jukebox and Emmy-winning composer W.G. Snuffy Walden, who has composed music for TV hits like "West Wing" and "Friday Night Lights."
Now returning to Myron's Cabaret Jazz with Walden on September 14 to perform original jazz and folk tunes from her new album "Travel Light," Niemietz will bring all the chops of her versatile career to the stage.
"There will be a lot of emotion and a lot of smiles," she promises.
The Grand Ole Opry and World Tours
Many of Niemietz's greatest opportunities resulted from simply asking, she says.
This includes reaching out to BJ Thomas when she was 21 to see if he remembered her. He not only invited her to a performance, but asked her to record with him and perform a duet at the Grand Ole Opry.
"It was like coming full circle," she says.
She had a similar experience with Walden, who she initially met when she was just 9 years old as a guest star on the show "Providence," for which Walden composed the music.
When Niemietz emailed Walden as an adult to congratulate him on his music for "Friday Night Lights," he was impressed by her accomplishments as a vocalist. 
"We got together and talked about my goals, and he was so supportive and became my mentor," she says, adding that they started touring together soon after.
Even her collaboration with Scott Bradlee, founder of Postmodern Jukebox, got rolling with a simple email.
Before even meeting him, Niemietz decided, "'I'm going to send him an email telling him I love what he does, and if he's ever looking for a singer, I would love to take part,'" she recalls. "He said, 'Let's get together and do a video.' And then I went on tour with them."
Returning Solo to Vegas
Niemietz is thrilled that her second performance at The Smith Center will be her own solo show.
Audiences can expect "high energy" performances, she vows, not only by Niemietz, but also her supporting band of background vocalists, Walden on piano and acclaimed bassist Jonathan Richards.
She looks forward to sharing tunes from her latest album, which feature a strong jazz and folk element.
"People will hear new, original music and will feel the love we have for our music," she promises.
Sara Niemietz and W.G. Snuffy Walden performed in Myron's Cabaret Jazz in September of 2018.