2/14/2019
Family Programming / Performances and Artists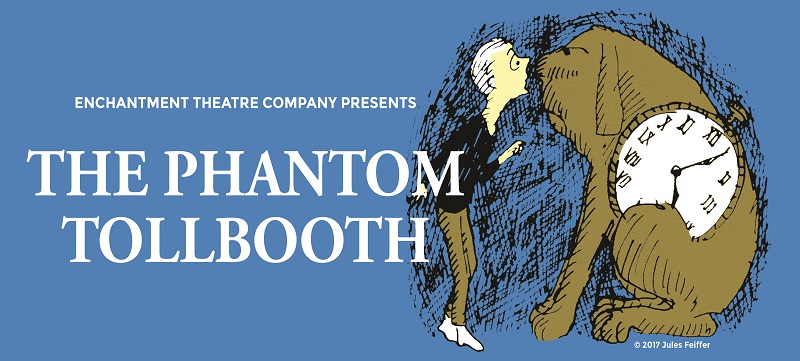 Family Show 'The Phantom Tollbooth' Creates Magical World on Stage
When Enchantment Theatre Company first approached acclaimed author Norton Juster about adapting his classic children's book "The Phantom Tollbooth" for the stage, he was immediately on board.
"He was intrigued, because what we do is not a traditional musical theater show," explains Landis Smith, artistic director for the children's theater company that performs across North America. "We use any kind of theatrical performance tool at our disposal, from dance to original puppets of all shapes and sizes to video projection."
Enchantment Theatre Company made good on this promise.
The company's creative team members let their imaginations run wild in bringing "The Phantom Tollbooth" to life in this all-new, whimsical musical production, running at The Smith Center on April 13. This includes bubbly original music, giant puppets, handcrafted costuming and masks, plus immersive video projections that transport audiences to a magical world. The show also spotlights the real wizardry from the book itself: The fun word play and experimental ideas that will have kids learning as they are entertained.
"Having worked with children for so long, and having never grown up ourselves, we respect the intelligence and intuition of young people," Smith says. "We find that young children, adult children and elderly children, they're all seeing this same show and getting something out of it."
A Beloved Children's Classic
After creating original productions for over 35 years, the Philadelphia-based Enchantment Theatre Company knew "The Phantom Tollbooth" would be a perfect fit for children's theater. While the book was published in 1961, its thrilling plot about a boy who discovers a fantastical world inside a tollbooth in his bedroom still captivates young readers today.
"It was one of my favorite books when I was a kid," Smith says. "I think it continues to resonate today because it involves play, and kids like to play." Much of the book lends itself to a mesmerizing live theater experience, he adds. That includes a full cast of monsters and magical creatures, and intriguing themes about how people see the world. "The whole idea is of being aware that point of view creates what we experience in life," Smith says.
The Magic of Masks, Puppets and Special Effects
Building on his past career as a magician, Smith had many ideas for creating a glorious world on stage for this show. The production includes a playful menagerie of creature puppets and masks, all hand-made by the creative team and elite theater craftspeople. Just a few of these include a playful creature that can break apart into separate pieces, an enormous giant and characters that float and fly. More of the show's highlights include animated video projections that interact with the actors and portray the magical world's wondrous setting, Smith adds.
"We had to figure out how to intriguingly and evocatively evoke these characters," he says. "I think young children and families and any kind of group will enjoy encountering these things together."
"The Phantom Tollbooth" was a part of the 2018-2019 season.