12/4/2017
Performances and Artists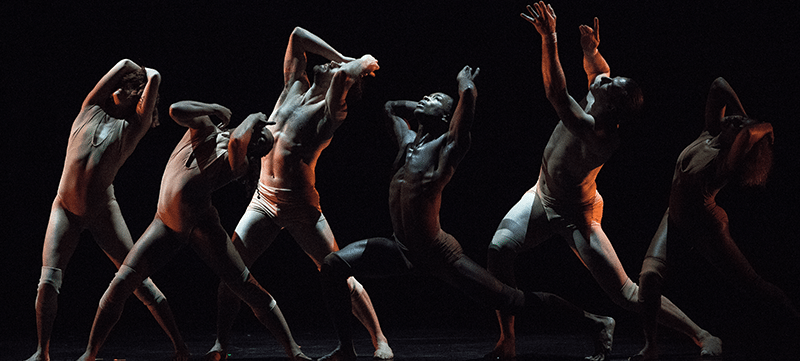 Testing the Limits of Human Physicality
Despite Pilobolus serving as one of the most famous dance companies in the world, many of its performers are, in fact, not trained dancers.
Instead, most hail from careers as gymnasts, martial arts experts and even actors specially trained in movement.
"Our original founders were not dancers. They were movers, they were athletes," explains Pilobolus Artistic Director Mark Fucik, himself an actor before joining the company. "For them to create dances, that was out of their wheelhouse."
This explains why Pilobolus — founded by skier and choreographer Moses Pendleton — doesn't perform dances so much as "works," Fucik adds.
Whether a piece features highly conditioned performers rotating through kinetic poses or interacting with elaborate props, Pilobolus' technique is unlike any other dance company today.
"Our founders decided to create work through the movements they already knew," Fucik says. "That's the philosophy of Pilobolus. We like to find our inspiration in our movements from everyday life."
Fantastical Works
Audiences will see this unrivaled approach in Pilobolus' anticipated performance on January 23 at The Smith Center.
The singular show is built on the premise of a quirky performer troupe rolling into town to perform fantastical works, each one nothing like the last.
"Each one of the pieces has a quality and a depth to it," says Fucik, who helped create Pilobolus' groundbreaking show "Shadowland." "Every piece has a different personality."
For instance, the work "On the Nature of Things," highlights three performers moving through complex positions on a 3-foot-wide pedestal, he notes.
"You have all of these incredible, architectural movements created for three people on a very small surface," he says.
Meanwhile, the work "Rushes" involves performers interacting with child-sized chairs in zany and  surprising ways.
"'Rushes' is one of my favorite pieces," Fucik says. "It's playful, it's fun, it has such heart to it, and there's also a depth to it. Some parts of it are quiet and sad and reflective."
Elite Performers Only
To say performing in Pilobolus is rigorous work is a significant understatement.
"Nothing can prepare you for Pilobolus," Fucik says. "People can be dancers their whole lives, and find that once they get into the company, starting on day one they won't use their bodies in any way they've trained to use it."
Beyond performing highly challenging pieces fraught with constant lifts, jumps and contorting, the company also developing new works at the same time.
"We're always creating new works, brushing up on our current works and learning new pieces, too," Fucik says.
Even with the toll this takes on the body, many Pilobolus performers still engage in tumbling and gymnastics on their own, Fucik says, to keep their creative sensitivities thriving.
"If there's one thing for audiences to be ready for, it's to be in awe of these performers," he says.
Pilobolus was a part of the 2017-2018 season.