3/6/2016
Supporting the Arts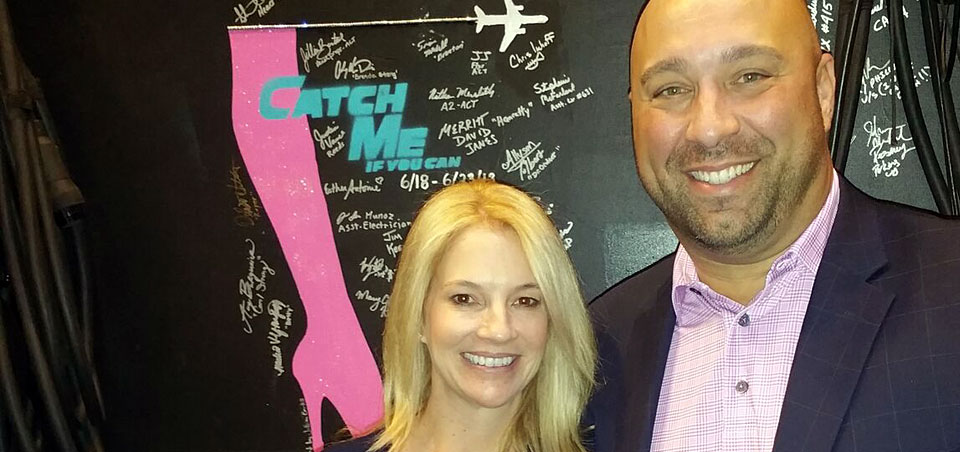 You know that saying, "Do things with passion or not at all"? If you've ever met Rick and Lori Kavadas, then you've seen that quote in action. Whether it's discussing what's next at The Smith Center, St. Louis Cardinals baseball or their two awesome kids, Rick and Lori exude that warm-hearted, genuine passion to everyone who crosses their path. Originally from Saint Louis, but having made Vegas their home since the late '90s, The Smith Center is truly grateful that the Kavadas family has chosen to make us a part of their personal passion.
You have been subscribers since the first season, and we always see you with your family or a big group of people. What is it about The Smith Center that keeps you coming and makes you want to bring others?
Great question, but we would first like to say thank you to the entire staff here at The Smith Center. The unmatched service and customer care has been extraordinary for our family and our guests over the past 4 years, and that is a very big part of our overall experience here. For Lori and me, each "date night" here at The Smith Center is a special occasion. We have the same anticipation whether it's the promise of a production we are very familiar with, like seeing Wicked five times, or perhaps the brand new experience of a show we haven't seen yet, or not as familiar to us, like the upcoming production of IDAHO! The Comedy Musical. But in the end, nothing is better than bringing a guest to The Smith Center for the very first time. It is a thrill to watch first-timers experience The Smith Center, from the grand entrance into the lobby, to the Mezzanine Lounge, to the minute the curtain opens...that is what keeps us coming back for every show.
Thank you for helping encourage your company to support The Smith Center! Why is supporting the arts in Las Vegas important to you?
Our two companies, NetApp and VMware, are and have been committed to the Las Vegas community for quite some time. And when The Smith Center opened, we felt it was only natural to be stewards for our engagement and contributions to The Smith Center on a professional level. And personally, Lori and I believe it is a very unique addition to a city that revels in their entertainment offerings. It is a source of pride when speaking to others outside of Las Vegas about "our" Smith Center, and we don't miss many opportunities to brag about The Smith Center.
How do your clients and guests feel about coming to shows here?
How much time do we have? Awesome! Incredible! Inspired! Involved! Grateful! Not sure we can discuss all the comments, conversations, and overall enthusiasm all of our clients, guests, and friends share with us after an experience at The Smith Center. But the biggest compliment we always hear is a simple one, "When can we go again?"
Your family has also very generously supported our Education Programs. Why is teaching your kids the importance of giving and community important to you?
As parents, we have always wanted our kids to know certain words early in their lives...charity, contribution, donation, and giving. They are only 6 and 4, but we see the meaning of these words growing in them. Zevan, our 6 year old, has chosen St. Jude and Animal Rescue Foundation as two charities to donate to on a monthly basis. And it is our pleasure to help explain the impact and the overall charter these charities fulfill on an annual basis. Animal Rescue Foundation is very personal for Zevan, as he wants to be a Veterinarian when he grows up. And then there is our 4 year-old, Alexa. She is our drama queen, our little ham, and will never miss an opportunity to dance, sing, or act out a certain scene at home in our family room. So this was an easy decision for Alexa to contribute to The Smith Center's Education & Outreach programs on a monthly basis. By the way, thank you for the kid's letters, and cards your team sent to Alexa, we enjoyed reading them together. It is a certainty she will be on your stage someday.
What show or performance are you most looking forward to this season? What have been some of your favorite shows here?
This season? Well we are excited about A Gentleman's Guide To Love & Murder and Beauty and the Beast for sure, but the more and more I keep hearing about IDAHO!, we are very intrigued to see that one, as we may all get to say, "we saw it first at The Smith Center" before it goes big time on Broadway. And favorite shows? Well we were amazed by Once. The soundtrack, the cast, and the story was incredible. This was a show that I did not know much about, and was completely blown away. Lori warned me that I would love it, but she wouldn't tell me one hint before the show. Of course all the shows have their highlights, but a few that surprised us over the past seasons... The Addams Family, Kinky Boots, Newsies, Evita, La Cage aux Folles, and American Idiot to name a few.
If you could tell everyone you knew one thing about The Smith Center that they may not know, what would it be?
They say if you want to see a person's true character, take them golfing. Well I say, if you want to see a person's true heart and soul, take them to The Smith Center.
Find out how you, too, can support The Smith Center. Become a Member today! Click here for details.