10/10/2017
Broadway Las Vegas / Performances and Artists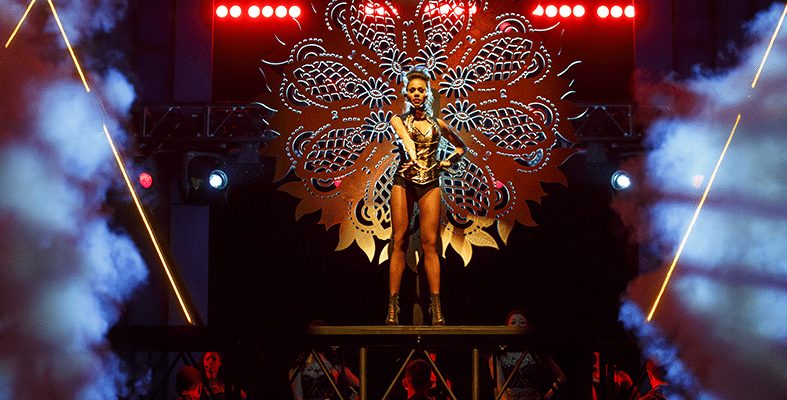 Grammy nominee Deborah Cox can summarize starring in the national Broadway tour of "The Bodyguard – The Musical" in a word: Daunting.
And that only brings out the best in the platinum recording artist.
"This is the biggest show I've ever done," says Cox, who has also starred in two Broadway musicals. "It's a really huge cast of singers and dancers, and every week we go into a different city and have to put our heads together and our passion together to go in and do what we love to do."
A Rigorous Show
This production poses no small challenge for Cox.
She not only sings and dances in nearly every musical number, but must also repeatedly deliver her powerhouse vocals for emotionally wrought pop ballads like "Run to You," "Greatest Love of All" and, of course, "I Will Always Love You."
"I just have to be super disciplined to stay physically fit, and make sure I stay healthy," Cox says of managing the show's physical demands. "I also practice four hours of vocal rest a day, with no talking, no singing, no whispering. That makes a tremendous amount of difference."
The Movie Verses the Musical
When the show's producers initially approached Cox about the starring role, she only felt compelled to take it on after reading the script.
"I just fell in love with it," she remembers.
Following the same plot as the beloved film, the musical dives deeper into various aspects of the story, including the blossoming relationship between pop diva Rachel Marron and her bodyguard Frank Farmer, as well as the growing threat from the superstar's stalker.
"It's suspenseful and thrilling," Cox says. "You actually see the stalker and what he's trying to do, but you're also torn between Rachel and Frank's relationship and seeing that develop. It's an emotional roller coaster."
Making the Songs Her Own
Cox's greatest joys of starring in the show include performing all of Whitney Houston's most iconic hits.
All of these melodies have significant personal meaning to Cox.
"These songs are really the soundtrack of my life," she says. "They've helped inspire me as a vocalist and as an artist."
She has worked to shape her own interpretation of these famous melodies, she adds, which has been no easy task.
"I had to unlearn everything I had learned about each song, and I had to find a way to make it my own," she says. "I'm still working on that, and I think every performance is a process, but it's a process that I enjoy as a part of the art."
Whether audience members are longtime fans of the movie and music, or are discovering these for the first time, Cox promises they will be entertained.
"When people leave the theater, they always leave dancing and inspired," she says. "Some people really feel touched."
"The Bodyguard – The Musical" was a part of the 2017-2018 Broadway Las Vegas season.