9/30/2016
Education and Outreach / Broadway Las Vegas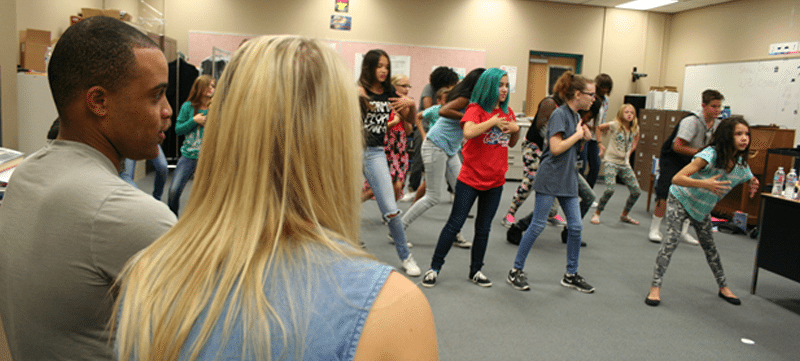 Although the 13-year-old beside him was less than half his height, Broadway performer Josh A. Dawson spoke to her as an equal.
"I'm going to ask you to do something," he informed Lynzzie "Tiny" Leggat after she sang a few bars of "Jolene." "I want you to sing this again, as angry as you can. I give you full license to do what you have to."
Yelling to work herself up, she tried again, squeezing her eyes shut and belting the lyrics as Dawson gave encouragement. The room of students cheered and whistled at her improvement.
"As actors, we need to allow ourselves to go to extremes," Dawson explained, turning to the middle schoolers gathered at Thurman White Academy of the Performance Arts. "Always."
This was just one of many performance lessons that 6th, 7th and 8th-grade students at Thurman White absorbed in late September, during a Master Class taught by Dawson and DeLaney Westfall, cast members with the touring Broadway production of "Beautiful – The Carole King Musical."
Striving to promote the arts among young generations, The Smith Center's Education and Outreach Department regularly organizes such Master Classes with professional performers for local students.
Providing valuable learning opportunities, the classes are possible as a result of the generous support from Smith Center donors and Members.
"This lets students hear from professionals in the business and incorporate that in their classroom setting," said Athena Mertes, choir teacher at Thurman White. "This bridges the gap between the classroom and real-world experience."
Coaching students who performed solos and group numbers, Dawson and Westfall gave insight on reducing stress before auditions, tapping into emotions on stage and crooning at full volume.
"I can tell you all kinds of things I've seen at auditions. I've seen actors doing crunches and pushups," Dawson said of different ways to engage the diaphragm.
After watching members of the show choir perform, Westfall emphasized the importance of performing as if no one else is on stage.
"There's always going to be one or more people watching you, and you alone," she said.
Mackenzie Cox, 13, delivered a stronger rendition of a Taylor Swift song after Dawson and Westfall encouraged her to sing as if her crush was across from her.
Cox enjoyed singing before people who hadn't heard her before, she said.
"It was cool hearing (advice) from professionals and hearing them tell me what I needed to do to make the song come alive," she said.
Micah Kamau, also 13, said he hopes to become a professional singer and dancer someday. He plans to use Dawson's tip on counting in his head to relax before performing.
"It was very interesting," Kamau said of the Master Class. "It was a great to experience to be here."
Confidence lies at the root of all performing, Dawson impressed before the class ended.
He underscored this after observing a student react to a mistake mid-song.
"Never, ever apologize for your work," he said. "If you own it, whether it's wrong or wright, it's always right."
Learn more about The Smith Center's Education and Outreach programs at http://www.thesmithcenter.com/education/education-outreach-programs/.