4/14/2020
Community Impact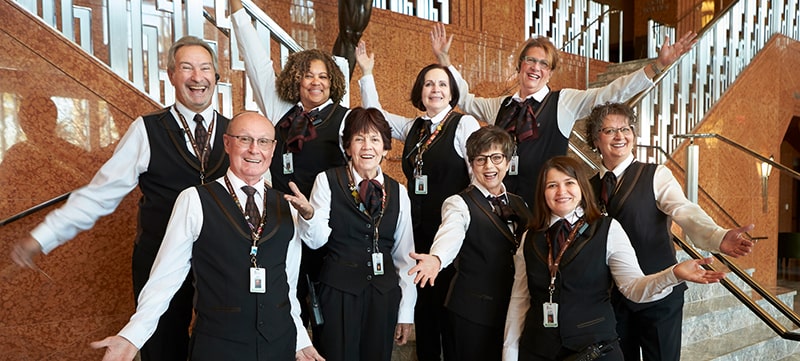 Late April marks National Volunteer Appreciation Week, and Smith Center volunteers deserve widespread recognition.
As a nonprofit, the center relies on roughly 220 volunteers to help present its hundreds of performances each year, and to provide its education and outreach initiatives impacting over 700,000 students and teachers.
These volunteers serve numerous roles, including ushers, tour docents, community ambassadors, ASL interpreters and more.
And some even volunteer thousands of hours.
Several community members have set records as The Smith Center's most active volunteers. While they hail from different backgrounds, all share a passion for the arts and serving their community.
Get to know some of these inspiring volunteers below, who help make the performing arts accessible to all.
Claudia Newbury
Total Volunteer Hours: 4,273
Claudia Newbury knew she wanted to volunteer at The Smith Center the first time she stepped foot there in 2012, the center's opening year.
"I describe it when I do tours as 'a happy building,'" Newbury says. "You walk in and you just smile because it's such a beautiful place. The people are so nice, and there are so many things going on."
Why She Supports The Smith Center
Newbury gained a lifelong love for the performing arts from her father, a barbershop quartet singer.
"I have absolutely no talent and admire those who do," she jokes. "Volunteering at The Smith Center gives me the opportunity to share my love of the arts with others."
Doing Something Worthwhile
Newbury volunteers for many community organizations since her retirement from the U.S. Department of Energy, where she worked with scientists around the world to safely manage nuclear waste at the Yucca Mountain project.
She volunteers at The Smith Center any way she can, including ushering at shows, giving tours, hosting donors at the Founders Room, and ushering for special events like weddings.
Some of her favorite moments stem from ushering at the center's student matinees, where many Southern Nevada students experience live theater for the first time.
"You get high fives and hugs from kindergarteners who have never been to a theater before," Newbury says. "It warms your heart, and you go home feeling you've actually done something worthwhile."
Steve Smith
Total Volunteer Hours: 4,069
Steve Smith likes to stay busy.
"After retiring from working as a law enforcement officer with a variety of correctional facilities, his hobbies include traveling across all seven continents and volunteering to support the homeless, seniors and airport safety.
"I feel it is important to give back in any way that you can," says Smith, who has regularly volunteered since age 16.
Why He Supports The Smith Center
Often volunteering for The Smith Center as an usher and a community ambassador, Smith believes in helping the center provide a performing arts resource for Southern Nevadans.
"Even though there are a lot of entertainment options in the Vegas area, there is a need for Broadway shows," Smith says.
Helping Kids Embrace the Arts
Smith cites many aspects of volunteering he enjoys at The Smith Center, including the friends he makes. He also cherishes supporting the center's education and outreach programs.
Most of the kids (at the student matinees) would never be able to see a show in The Smith Center otherwise," he says. "Just the look on the kids' faces when they first come into the lobby is magnificent."
Larry LeBlanc
Total Volunteer Hours: 3,957
Larry LeBlanc knows all about serving his community, and his country.
"The U.S. Air Force veteran worked over 30 years with the U.S. Postal Service before retiring. Beyond his many hours at The Smith Center, LeBlanc has volunteered several hundred hours with a variety of other nonprofits.
"Volunteering is important because resources are scarce, and volunteers help agencies stretch their outreach," LeBlanc says.
Why He Supports The Smith Center
An avid music lover, LeBlanc describes volunteering at The Smith Center as the perfect fit.
"I enjoy all forms of music we have at The Smith Center," he says. "(Ushering for) Broadway shows is a bonus for me, as I had only attended several shows prior to signing on."
His volunteering spans many Smith Center departments, including ushering, preparing materials for donor events, assisting at the box office and giving tours for new Smith Center team members.
"If it wasn't fun, I wouldn't do it," LeBlanc says.
A Strong Camaraderie
He especially enjoys connecting with fellow Smith Center volunteers both on and off campus, he says.
The volunteer team often gathers for holiday parties and potlucks, birthdays, barbecues and more.
"I have made several lifelong friends," LeBlanc says.
Kathy Healey
Total Volunteer Hours: 2,427
Kathy Healey enjoys putting smiles on people's faces.
"She has kept busy baking cookies, brownies, cheesecakes and more for first responders and other workers during the coronavirus pandemic. She often volunteers for nonprofits that support foster children, senior care centers and homeless youth.
"Volunteering is important to me, because there are so many people less fortunate than me in the community and I feel it is my responsibility to assist in any way I can," Healey says.
Why She Supports The Smith Center
Healey considers volunteering at The Smith Center as one more opportunity to enrich Southern Nevadans' lives.
"It brings a diversity of performances unlike anywhere else in the city," says Healey, who works as a professional wine sommelier. "It is a playground for laughter, education and community."
Connecting with Guests
Her favorite volunteer roles include giving facility tours, because she delights in discussing the center's history and watching visitors become "mesmerized with the architecture and the artwork," she says.
She also embraces ushering for performances, to see the impact of the shows that she enjoys as much as the guests.
"Being an usher gives me connections to the guests, and the chance to see the delight on their faces," she says.
Healey also looks forward to spending time with the center's friendly and supportive volunteer team.
She can list numerous fellow volunteers who inspire her.
"They are a diverse group of individuals who care about the theater and care about each other," she says.
Learn More
To learn more about volunteering at The Smith Center, click here.