1/3/2020
National Geographic Live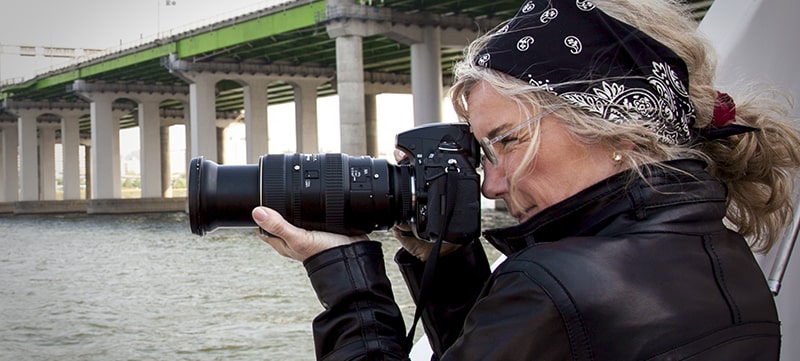 National Geographic Photographer Jodi Cobb Chronicles Her Historic Career
World-acclaimed photojournalist Jodi Cobb clearly remembers the hardest story of her career: When she became the first photographer to ever document the cloistered lives of Saudi Arabian women.
Her obstacles were endless. As a woman in 1980s Saudi Arabia, she couldn't ride alone with a man in a car, or even take a taxi. She had to ask permission of every woman she photographed, who then had to seek permission from a man in her life, and "90 percent said no," Cobb says.
She was even arrested and jailed for taking photos on a street.
"It was illegal. That's how hard it was," Cobb remembers.
But she remained, persisted and got the story. As National Geographic's first female staff field photographer, she not only had a personal interest in these women's lives – but she had to prove herself to the then "boy's club" journalism establishment.
"Failure was not an option for a woman," Cobb says. "I felt like I was upholding all of womanhood, and I just had to get (the story)."
This philosophy largely defines Cobb's groundbreaking career, with her gender allowing her access to cover secret cultures across the world never documented before, including Japanese geishas and global human trafficking.
"When I set out as a photographer to change the world, I didn't think I'd actually be able to do it," she says. "I was so surprised to see that what I did was making a difference."
The First Woman in the Newsroom
Cobb wasn't surprised to be the first female staff field photographer at National Geographic, she says.
She had also been the only female photographer at the other two publications where she had worked.
"Sometimes (being a woman) was a huge disadvantage, like being barred from the sidelines at the NFL," recalls Cobb, who chose her field after experiencing "love at first sight" in a college photography class. "I just assumed there were no women in that profession, but that was not going to stop me."
She joined National Geographic with a thirst to explore and impact the world, a desire seeded during her childhood as an American raised in Iran.
National Geographic was somewhat "stodgy" when she joined, but she believed in the staff members who envisioned the publication as a leader in photographic excellence.
"The editor who hired me was determined to make it that, and he was hiring young photographers who had that ambition," she says.
Cobb didn't realize how much she would impact this.
Infiltrating Secret Worlds
Through Cobb's tenacious reporting, she revealed hidden worlds readers had never seen before.
This included shadowing Japanese geishas in their private, daily lives over several months, chronicling hours of applying traditional makeup, preparing for elaborate dance performances and entertaining prominent guests at private parties.
"It was the most exotic, interesting and beautiful thing I'd ever seen," she says, though she also covered the women's stories of adversity, such as being sold into the geisha livelihood by destitute parents.
Her book about the geisha culture earned a Pulitzer nomination.
Like Cobb's coverage of Saudi Arabian women, this was a world that male photographers hadn't been allowed to access.
"The reason there had not been many photographs of those worlds of women, is there were not that many women able to get inside those worlds," she says.
Her Life on the Line
Cobb reached the pinnacle of her career with a story that consumed a year of her life – and which garnered more response and acclaim than any previous National Geographic story before it.
It began as a curious look into a new human-trafficking law, and rapidly branched into expansive coverage across a dozen countries. Her comprehensive piece, "21st century Slaves" covered child labor, sex trafficking, organ trafficking, illegal child adoptions, smuggling of farm workers and far more.
Cobb witnessed and documented firsthand the grueling hardships and abuses so many trafficked individuals face, she says.
"My life was on the line almost every day," she remembers. "The deeper I got, the more I wanted to tell the story."
When the story published, not only did numerous readers reach out to help, but the U.S. Justice Department informed Cobb that several FBI agents asked to be trained in trafficking issues after they read the story.
"That's what I was most proud of, when my source at the Justice Department wrote to me and said that's what was going was on, and how much influence that story had," she says.
Still More to Discover
These stories just touch the surface of Cobb's stunning journalism career.
In her National Geographic Live! presentation, Cobb will discuss her incredible life journey, beginning with her globetrotting childhood and continuing through the photos and adventures of her investigative stories across over 30 years.
"In my telling of my story and my journey, I'm hoping it will inspire others to (make a difference)," she says.
National Geographic Live "Stranger in a Strange Land | Jodi Cobb" takes the stage August 25, 2021.
Photo Credit: Viron