6/2/2017
Community Impact / Broadway Las Vegas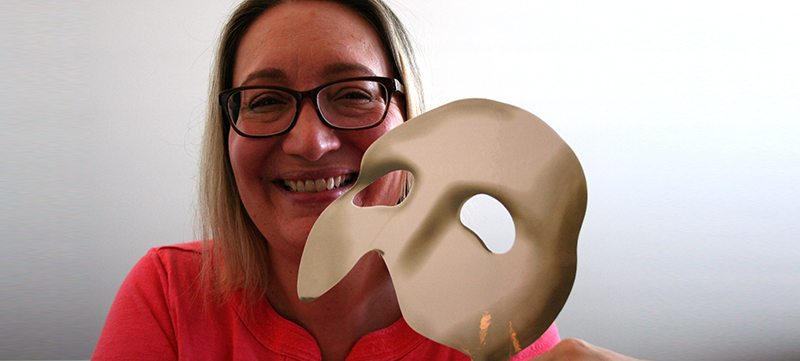 Few know better than Ellen Szorady-Childs what's involved with taking a large-scale Broadway production like "The Phantom of the Opera" on the road for a nationwide tour.
"It's just massive and logistical," says Szorady-Childs, theater services coordinator at The Smith Center.
"Phantom" consumed Szorady-Childs' life for more than two years, when she served as the company manager for a previous version of the national Broadway tour.
At the top of the company ladder, her duties involved coordinating the scheduling, transportation, payroll and more for the show's 100-plus employees and 24 trucks carrying set pieces and props.
What was it like? Thrilling, she says… And exhausting.
"Our show was a behemoth," she says. "It was just a big undertaking."
A Frenzy of Preparation
As most touring shows are considerably smaller scale, they can typically be prepped for each new location in a day or two, Szorady-Childs says.
The "Phantom" show she toured with – a different version than the one now playing at The Smith Center – took a week and a half.
"I had an entire crew working to prep the show in the next city while we were closing out the previous city," Szorady-Childs says of the show's load-in process, involving set installations and preparing costumes and props. "We had six trucks that carried a second version of our set, so we could always jump that set to the next city."
Scheduling the travel schedules of the cast, crew and sets was a balancing act, she says.
"The biggest problems we'd have is when there were travel delays or trucks broke down somewhere," Szorady-Childs recalls.
The current production at The Smith Center has condensed this process significantly, she adds.
"The current show does the entire load-in within three days," she says. "They have streamlined this production from what my production was."
The Gypsy Life
Working with a nationally touring show naturally involves traveling constantly – but that doesn't mean tour members can't have a family life.
Szorady-Childs and her husband Chris Childs — a stage manager who she met during a previous show tour — traveled with their daughter from when she was 6 months old to 4 years old.
"We packed up the minivan and my husband would drive from city to city," she says. "It was hard, but really fun. At least we all stayed together."
They weren't alone, she adds. Many employees on the tour traveled with their children, some even homeschooling their kids.
"At one point, there were 10 or 11 kids on the road with us," she says.
They even toured while she was pregnant with her second child, and during the baby's first six months.
"We always joke that I'm surprised he wasn't born singing 'The Phantom of The Opera,' because he'd heard it for so long," she says.
A New Production
Despite the endless times she has seen the show, Szorady-Childs feels excited to watch the new production at The Smith Center.
This production actually includes several cast and crew members she worked with during the old tour, including Trista Moldovan playing a lead role.
"I'm thrilled to see they're all still working," she says.
While she isn't aware of all of the differences between her previous show and the current one, she understands this production offers reimagined music, special effects and set pieces.
She also knows the show features an upgraded chandelier – her favorite part of the show.
"I'm looking forward to seeing this new interpretation," she says. "I'm very curious to see what they've done."
"The Phantom of the Opera" was a part of the 2016-2017 Broadway Las Vegas series.