6/28/2018
Community Impact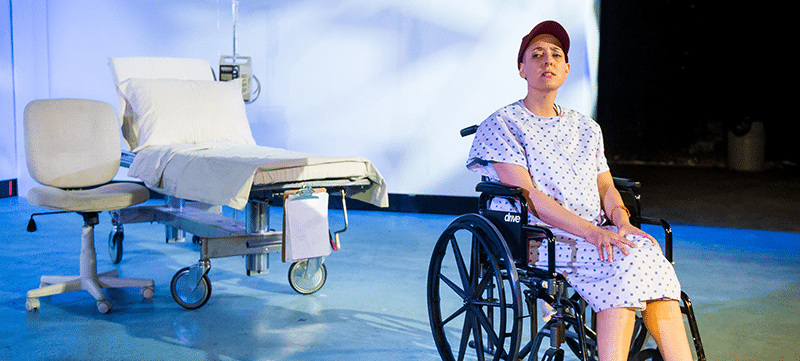 Looking back on her week, Smith Center Controller Tina Rice admits "I'm a little tuckered out."
It's no wonder.
Rice's weekdays lately include working a full day at The Smith Center, followed by four-hour evening rehearsals at A Public Fit (APF) Theatre Company, polishing lines for the company's free staged reading of "August: Osage County" at 7:30 p.m. on June 29, in the public library at 1401 E. Flamingo Road.
"It can be very time consuming," the Las Vegas native says with a laugh. "Every time I finish doing a play, I think, 'Why did I do that?' And then another one comes up and I can't say no, because I love it so much."
Balancing work and performing has largely defined Rice's life, since she helped build APF from the ground up several years ago.
But the results have been worth it.
First, Rice has played a significant part in developing a thriving professional theater resource in Southern Nevada.
Second, this has drawn Rice back to her love for performing — which recently culminated in her starring in APF's production of "Wit," earning her a nomination for this year's Las Vegas Valley Theatre Award for Principal Female Role.
"(Playing that role) was one of the best experiences I've ever had," Rice says. "Having it well received was just the cherry on top."
Crashing and Burning – for the Best
Rice started performing in early childhood, after "pestering" her mother to let her audition for Rainbow Company Youth Theatre.
From there, her acting obsession led her to a bachelor's degree in musical theater from Webster University, followed by attempting a film and TV career in Los Angeles.
"I crashed and burned," Rice remembers of her L.A. days. "I ended up working at Starbucks."
This wasn't a dead end. An eventual management job at Starbucks sparked Rice's interest in business, resulting in her returning to school for her MBA and master's degree in accounting.
Although Rice put acting "on hold" to raise a family back in Las Vegas, fate intervened when her old theater friends asked if she would help them start a local theater company.
"I thought it was great," Rice says. "The more theater companies that come into the community, the more they can push each other."
A Perfect Fit at A Public Fit
Rice is "really proud" of how far APF has come since its first season in 2014.
"We honestly went from reading plays at a dining room table to staging one play after another," she says. "Now we have a developed season of performances and staged readings."
Rice herself began with simply handling the company's accounting.
But little by little, she started auditioning and landing parts in APF productions, rebuilding her confidence with performing. Soon, she was both serving as APF's CFO and regularly performing in the company's plays.
Even today, Rice provides APF's bookkeeping, on top of acting in company productions. 
"I do it because it's something the company needs, and something I need," she explains. "The performing is for me, and the bookkeeping is for them."
A Role with Wide-Reaching Impact
Rice admits that halfway through learning the lead role of "Wit," she thought, "I can't do this."
Her reservation is understandable.
Her character of Vivian Bearing was not only very intense — an ovarian cancer patient reflecting on her life of alienating others — but also carried the bulk of the show.
"She talks for about 90 minutes," Rice laughs.
Rice found her way with the help of directors Joseph Kucan and Ann-Marie Pereth. Their hard work paid off.
"Wit" not only garnered rave reviews, but had a sweeping community impact.
APF staged a performance of the play just for cancer patients. The company also hosted talkbacks after each show, allowing patrons to discuss their own emotional experiences with cancer.
The performances even attracted many members of the health care community, who shared that the show inspired them to provide a more personal and empathetic approach with patients.
"It was an awesome experience," Rice says.
What's next for Rice? Performing in more APF productions, including "The Elephant Man."
"I can't see my life without performing," she says.
Learn More
To learn more about A Public Fit Theatre Company, click here.