11/6/2020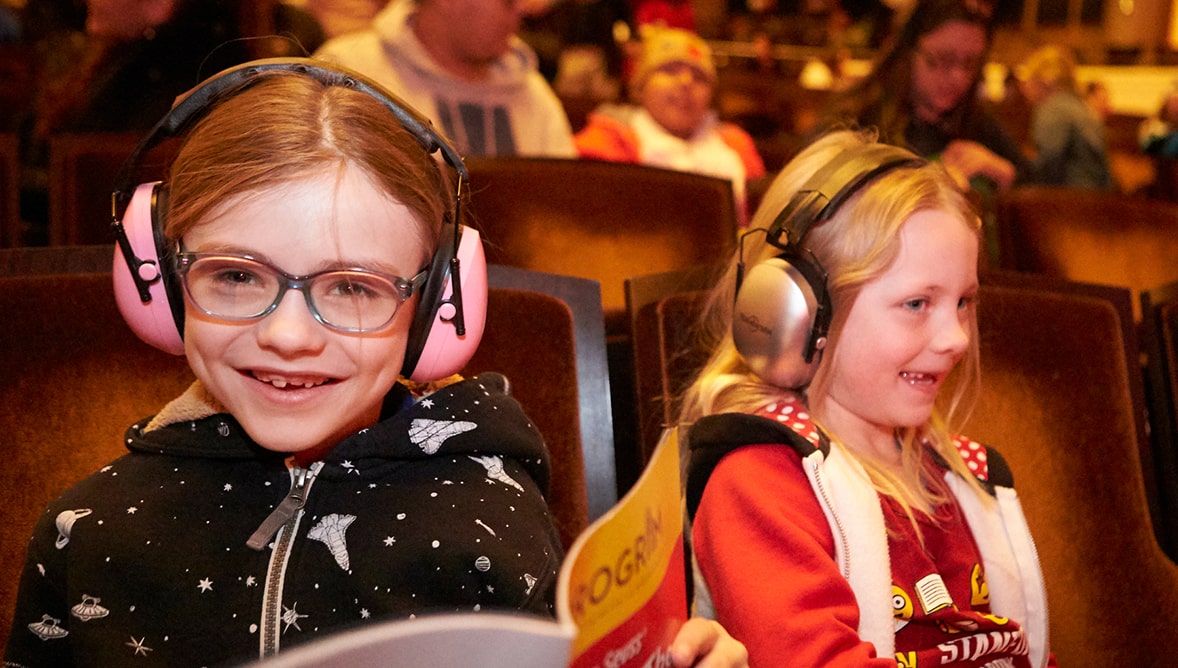 With the Thanksgiving holiday approaching, many Southern Nevadans reflect on all that makes them feel thankful.
Even with the numerous challenges of this past year, The Smith Center family expresses deep thanks for those who support the nonprofit during its temporary closure.
And likewise, many Southern Nevadans have expressed thanks for significant experiences with The Smith Center that impacted their lives.
Read about these below — and help The Smith Center provide more of these powerful experiences in the future by contributing to the center's Road to Reopening Fund here.
Young Girl Transforms After Lifelong Health Issues
After the Sly family brought home Lissa at 8 days old — and later adopted her — the Vegas family threw themselves into intervention therapies and surgeries throughout the girl's young life.
Addressing her health issues included double eye surgery at 5, and heart surgery at 7.  
"We were in the trenches doing everything we could," says her adopted mother Stacey.
Also assistant principal with Richard J. Rundle Elementary School, Stacey worried that Lissa remained an introvert with few friends, even after overcoming her health issues.
But that changed when Lissa participated in the school musical, Disney's "Aladdin KIDS" — made possible through The Smith Center's Disney Musicals in Schools program.
Lissa embraced singing and dancing, worked closely with other kids at rehearsals, and suddenly had many new friends on the playground.
"This musical gave Lissa an outlet to develop confidence that she didn't have before," Stacey says.
Connecting Military Families Through the Arts
Nichole Nguyen knows how challenging life can be for families when a parent is deployed overseas.
Her husband had been deployed nearly six of their 13 years together, difficult for the family with three children.
That's why she eagerly brought her family to a special arts workshop The Smith Center hosted for military families. Many members of the Nevada National Guard enjoyed reconnecting with their families during the evening of crafts, dinner and a show.
"When we have opportunities to bring our families together, our husbands included in that, it makes a difference," Nguyen says. "Having an opportunity where we can bring our kids to such a great venue, it gives us great pleasure."
Bringing Elite Dancers to Southern Nevada Classrooms
Over 80 students at Del Sol Academy of the Performing Arts had a rare chance to work with some of the country's most elite dancers, through a special experience with The Smith Center.
The center arranged for dance students to take master classes with members of the Repertory Dance Theatre (RDT) of Utah — the nation's oldest and most successful repertory dance company.
"Kids who are able to see, hear and touch real, working professional artists are more likely to be inspired and driven toward their goals," the school's dance teacher says of this event's impact.
The RDT dancers taught students modern choreography, and provided one-on-one feedback about technique and style.
Many students hail that the experience inspired them for the future.
"It just made me want to go to college even more," says a 17-year-old student aiming to become a teacher.
This showed a dance career is achievable, adds an 18-year-old student.
"Seeing those who succeeded in the dance field helps me strive to do the same," the student says.
Helping Congo Native Embrace New Vegas Home
It was no small triumph for Sarah Mibulano to participate in a performance at The Smith Center's seventh-annual Camp Broadway, the center's youth theater program.
This marked the 13-year-old's first time performing in an ensemble show in this country, since her family came to America from their native Congo just a few years prior.
"I'm very excited about this show. I've just felt like I couldn't wait for today," Mibulano said before taking the stage.
The challenges of assimilating to a new country didn't dampen Mibulano's love for dancing and performing. The camp let her embrace this, with its upbeat lessons on singing, dancing and acting — which helped build her confidence, too.
"I like being on stage, because I feel like I'm taking myself out in front of a lot of people and showing myself and being strong," she said.
Best of all, Camp Broadway helped Mibulano make more friends in her new home of Las Vegas, she said.
"I've made a lot of friends here," she said. "I would be glad to come back again."
An Inclusive Theater Experience
A Las Vegas mother with a son on the autism spectrum says she often perceives her child as "not welcome" at public events, due to his behaviors beyond her control.
But she didn't feel this way at The Smith Center's sensory friendly performance of "Dr. Seuss' How the Grinch Stole Christmas! The Musical."
Designed for audiences with disabilities, the performance offered a judgment-free environment, with specially trained staff and designated quiet areas for audience members to take a break, if needed.
She didn't have to worry about silencing her son, or feeling embarrassed by outbursts.
Instead, they could enjoy the show pressure-free, in a relaxed theater environment fully accepting of audience members' behaviors, with the show adapted to reduce triggering effects.
Best of all, her son got a kick out of the joyful production.
"Since The Smith Center began hosting sensory friendly performances for our special needs children, my son has grown to love the theater," she says. "In my wildest dreams, I never thought he would be able to sit so calmly. He understands the environment and actually enjoys the experience."
The Road to Reopening
Due to public health and safety guidelines during the pandemic, The Smith Center has cancelled or postponed over 450 performances totaling more than $40 million in lost revenue.
As a nonprofit, The Smith Center needs community support now more than ever.
To help open The Smith Center's doors again, click here to support our Road to Reopening Fund.