3/14/2018
Performances and Artists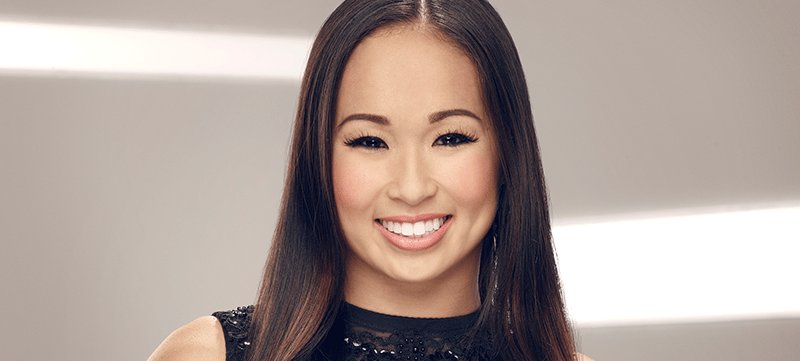 Perfect Preparation for a National Tour
It might shock fans of "So You Think You Can Dance" to learn that the competitors not only learn a whole new dance each week — but choreographers teach it to them in just 60 minutes.
"You learn everything in an hour," recalls Koine "Koko" Iwasaki, a top finalist in season 14 of the smash FOX show. "It was very, very taxing."
Even though Iwasaki's lifelong training has primarily focused on contemporary dance, she dived into the show's challenge of training and performing in many styles she'd never danced before.
Her favorite part? Learning salsa with acclaimed choreographer and dancer Val Chmerkovskiy.
"I had never done salsa in my life, but Val taught me with such love and confidence, he made me feel like I was a real salsa dancer," she remembers.
Little did Iwasaki know, she would soon be performing with Val in top venues across the U.S.
Iwasaki is one of two stars from "So You Think You Can Dance" to recently join the dazzling roster of dancers on the national tour of live show "Maks, Val & Peta Live On Tour: Confidential."
The dance production's headliners include Iwasaki's favorite choreographer Val, his brother Maks and Peta Murgatroyd — all best known for their work as teachers on ABC's television phenomenon "Dancing With the Stars."
Iwasaki joined the national tour alongside fellow show finalist Chris "Kiki" Nyemchek.
"It's an honor for me to be on this tour," Iwasaki says. "We get to be part of the family with (Maks, Val and Peta), and that's the coolest experience of all."
A Crash Course in Dance
Since Iwasaki learned in January that she was joining the "Confidential" tour, there hasn't been a single day off from rehearsals — many of which are 12 hours long.
"Every day we have new choreography coming in," Iwasaki says. "We're doing ballroom, contemporary, hip-hop, and many theatrical numbers, as well."
She feels plenty of adrenaline training directly with Maks, Val and Peta, "the best of the best of ballroom," she says.
She also feels a deep connection with the show, she adds, as each dance portrays personal stories from the lives and careers of Maks, Val and Peta, living up to the tour's "Confidential" title.
"It's very, very personal. The show is so much more than dance, it's also a story," Iwasaki says. "There will most definitely be some teary pieces, and moments where people will be laughing off their seats."
The Live Experience
Performing on "So You Think You Can Dance" was a perfect boot camp for the "Confidential" tour, Iwasaki says. 
After the conclusion of the reality show, the top finalists immediately went on national tour, she says.
"We had three days to prepare everything," she remembers. "That whole experience definitely prepared me for this."
Iwasaki embraces opportunities to tour with live shows, she adds, as she feels performers connect more with live audiences than through television cameras.
"I think it's better live, because the audience gets to feel our energy from the stage," she says. "It's a whole different experience."
"Maks, Val & Peta Live On Tour: Confidential" was a part of the 2017-2018 season.