5/16/2018
Performances and Artists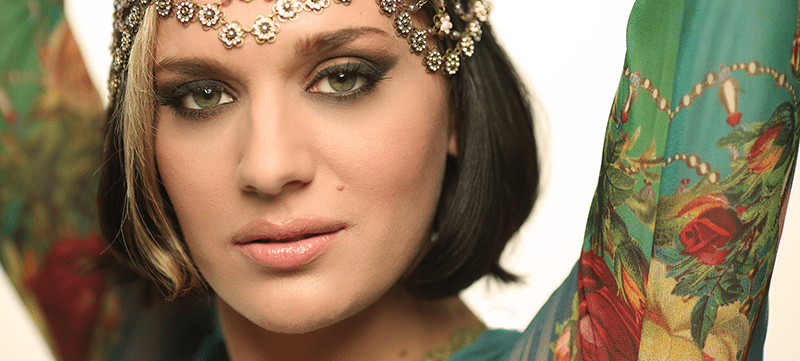 Ariana Savalas Sizzles in Solo Show
When Ariana Savalas says she's inspired by classic cabaret and jazz performers, she's not kidding.
Beyond an intimate knowledge of the Great American Songbook, the songstress can eagerly provide a detailed account of cabaret stylings from Germany's Weimar Republic in the 1930s.
"There was this all-encompassing performance art to it that I absolutely love. It was very audience interactive," says Ariana, the sultry vocalist, comedian and multi-instrumentalist best known for headlining with music phenomenon Postmodern Jukebox. "You weren't just a person watching a show. There was always an element of 'Oh, God, I could be a part of this.'"
That's just what Ariana aims to serve up with her own performances.
Recently seen at The Smith Center as the emcee of Postmodern Jukebox's PBS special, filmed in Myron's Cabaret Jazz, Ariana is returning by wild demand for her own solo show on Friday, June 1.
Audiences can expect much more from this versatile entertainer than just her swoony vocals.
Known for her spontaneity and rapid-fire wit, Ariana promises a full evening fraught with pop and jazz songs, dance, comedy — and a dash of burlesque.
"I don't think you'll recognize me unless I take my clothes off," she says with a laugh of her devotion to the burlesque art form. "I love the intimacy of it. Burlesque is so much less about what you take off. It's more about what you keep on, and the mystery behind what you're doing."
Continuing an Entertainment Legacy
It's not surprising Ariana has a flair for performance.
Her father was the acclaimed American singer and actor Telly Savalas, largely known for his role as Kojak in the titular 1970s TV series, and as Bond villain Ernst Blofeld in film "On Her Majesty's Secret Service."
Ariana credits him with inspiring her career path.
"The people he was friends with were, in my opinion, the greatest performers of all time," she says, noting that Dean Martin led a celebrity roast of Telly in 1974. "He was a consummate showman, and he really inspired me in so many ways."
Resurrecting Classic Las Vegas … And Vaudeville
Anyone curious about the nature of Ariana's show at The Smith Center can expect to experience "what old Vegas used to be like," she promises.
This means "over-the-top ridiculousness," mixing ribald comedy with purring vocals and glamorous showmanship.
Ariana also aspires to provide a knee-slapping vaudeville experience, complete with dancing, acting and singing, plus a constant cascade of jokes largely inspired by her own life.
"I love the idea of making humor out of darkness, and nothing is darker than my love life," she teases.
She vows that audience members will also play a vital comedic role.
"Whether you're in the front or the back, you're in danger of not just being an audience member, but part of the show," she says.
Ariana Savalas performed in Myron's Cabaret Jazz in June of 2018.