3/28/2018
Education and Outreach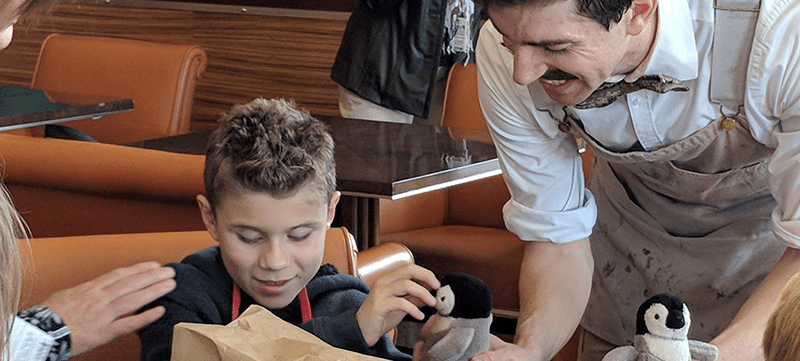 As much as Catrina Castroverde's 7-year-old daughter Vera enjoys live shows, the girl sometimes has trouble following along.
That's because Vera is visually impaired, just one of many Clark County School District (CCSD) students who are visually impaired or blind. This can make live performances harder for them to grasp, her mother says.
"They don't always get to experience everything we get to experience, and we take it for granted," Catrina says.
That's why The Smith Center, a nonprofit, provided a special experience for these students in March at no cost to schools.
As part of its student matinees of family show "Mr. Popper's Penguins," The Smith Center invited CCSD's students who are blind or visually impaired to attend a performance that provided audio description, with each child wearing an earpiece to hear a trained professional providing live description of the show's visuals.
Audio description — available at select Smith Center performances — helps provide equal access to these students who are otherwise isolated by shows for sighted audiences, says Lori Moroz-White, transition specialist with CCSD's Vision Services Department.
"None of our students said a word during the whole production. They were glued to it," White says. "If they go to live theater and don't have audio description, they might not like it. With the audio description, my goal is to turn these children into longtime theater goers."
Following the show, the students were treated to a special lunch at The Smith Center, where they also met the show's performers and puppets.
The students were giddy as they petted the penguin puppets and discussed the show.
"It was nice. I liked the part where they put the penguins in the fridge," says CCSD elementary student Brandon Burnett of his favorite part of the show.
Catrina says her daughter loved the entire experience.
"To have the audio descriptions and to meet the performers, it's such a blessing," she says.
The Smith Center presented several matinees of "Mr. Popper's Penguins" to a total 8,743 students from 71 schools in March, at no cost to schools.
All of the student matinees, as well as the experience for students who are blind or visually impaired, were made possibly by a grant from Windsong Trust.
Performing, Pizza and Penguins for Military Families
The Smith Center also provided an engaging arts experience for 100 military service members and their family members in March.
Under its new Community Outreach Performing Artists program — providing bonding experiences for military families that are often separated due to deployment — The Smith Center offered an interactive arts workshop with acclaimed storyteller and teaching artist Karla Huntsman.
Afterward, the families enjoyed a pizza dinner and attended a performance of "Mr. Popper's Penguins."
Thanks to a grant from the John Krakauer Charitable Trust advised by Professionals in Philanthropy, the workshop, dinner and show tickets were provided at no cost to the event's participants, who included members of the Nevada National Guard and Air Force and their families.
Huntsman led the families through a series of creative experiences related to the book "Mr. Popper's Penguins," including puppeteering and creating choreography to a military march.
Las Vegas resident Lora Braxton, whose husband is currently deployed, said this was the first opportunity she and her 3-and-6-year-old sons had to visit The Smith Center.
It was a welcome evening to enjoy each other, she adds.
"The workshop was very fun, very interactive," she says. "It's a connection with literature we really appreciate. It brings the book to life and makes the kids lifelong readers."
George Cohenno, a member of the Nevada National Guard, wore a wide smile as he followed the workshop's choreography with his wife Brandy and their 6-year-old daughter.
"It's nice that we get to do something together. We don't get a lot of time together," George says. "It's great that they do this for families."