3/22/2017
Performances and Artists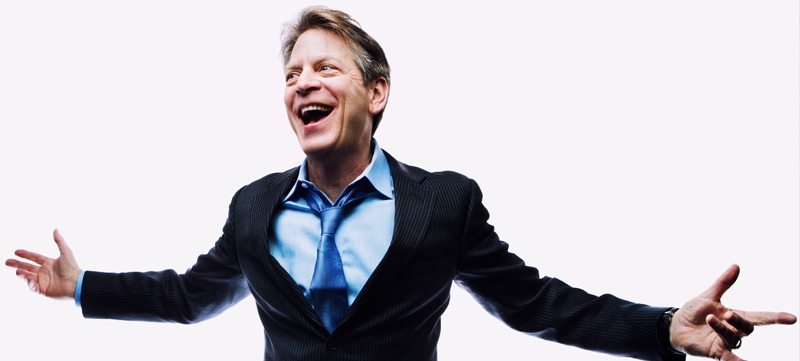 The most common question singer/songwriter Steve March-Tormé fields is how his father, jazz icon Mel Tormé, influenced his musical style.
His answer is simple. His father didn't influence him musically at all.
"I never (became a singer) to continue a legacy," explains March-Tormé, who performs at Cabaret Jazz at The Smith Center on April 14 and 15. "I did this because I got inspired listening to Elton John on the radio when I was 12 years old, in my basement in New York. It turned out lucky that my father gave me some good genes."
Of course he always admired the success tied to his singer/composer father, most recognized for penning "The Christmas Song" (better known as "Chestnuts Roasting on an Open Fire").
But because March-Tormé's parents divorced when he was just 2, he lacks the childhood stories many expect of him watching his father perform and hobnob with other music legends.
March-Tormé spent more time with comedians as a child, he adds.
These were friends of his stepfather, famous actor/comedian Hal March, best known for hosting "The $64,000 Question" in the '50s.
"I grew up with my mother (actress Candy Toxton) and my stepfather," he says.
Although March passed away of lung cancer when March-Tormé was 17, his stepfather had a lasting positive influence, he says.
This not only included March encouraging his stepson's love of performing, but also his affinity for baseball. March-Tormé eventually won two gold medals in the Maccabiah Games, the international sporting event for Jewish athletes worldwide.
"The only influence (Mel Tormé) really had on my career was the same influence my stepfather had," March-Tormé adds. "That's to be a professional, do you homework. People are paying money that they worked hard to make to see you, and it's your job to make it worth their while."
This guidance paid off.
With an affinity for performing jazz standards and '60s classics he grew up with, March-Tormé tours worldwide and has performed at renowned venues, such as Carnegie Hall and Feinstein's/Below 54.
He even crooned alongside his birth father, including performing together at the Kool Jazz Festival at Carnegie Hall.
"Singing on stage with my dad 'What is This Thing Called Love' was incredible," he remembers.
Just as thrilling was pulling his 13-year-old daughter Ruby on stage during a 2016 holiday concert, where she sang her grandfather's beloved "Christmas Song."
While she nailed it, March-Tormé hopes she doesn't pursue singing.
"She can do anything," he says. "I'd much prefer her to pursue something not so difficult."
For himself, though, his place remains eternally on stage.
"I have no choice, I can't do anything else," he says with a chuckle. "It's what I do, and I worked hard to be good at it."
"Steve March-Tormé Touchstones: Legacy of Song" ran in April of 2017 in Myron's Cabaret Jazz.