1/15/2018
Performances and Artists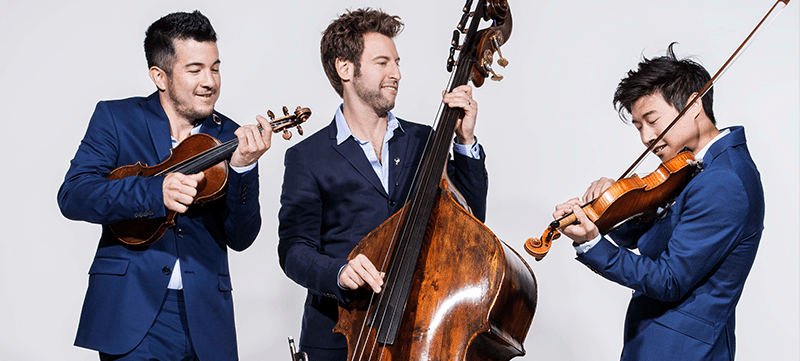 Time for Three Shatters Boundaries
When string trio Time for Three first got serious with performing an energizing mix of genres - all students at The Curtis Institute of Music at the time - they received some discouraging feedback.
"Everyone told us, including the dean of our school, that we'd never have a career doing what we're doing," recalls Ranaan Meyer, the group's double bassist.
He understands why.
No one had seen a group like theirs before, with two violinists and a bassist who enjoyed covering Katy Perry and Kanye West more than playing Baroque classics.
"We were just three guys who liked to play more than just classical," Meyer says, adding that the group was busted jamming after hours on campus. "We had heard about each other and found each other as a result."
The classically trained musicians followed their instincts, crafting electrifying arrangements in every genre they found fun to play, spanning jazz, pop, country and hip-hop.
And they didn't let the naysayers get them down.
"We wanted to make it happen even more when we heard (negativity)," Meyer says.
Hitting the Big Time
This tenacity has led Time for Three to successes the group never expected, including performing its eclectic arrangements at Carnegie Hall and on hit ABC show "Dancing with the Stars."
"I think (this success) comes from how we don't fit into a pigeonhole," Meyer says.
Building on this, the group has taken its musicality to a whole new level with its three current members, including Meyer and violinists Nicolas Kendall and Charles Yang.
Now incorporating their singing voices into their pieces, the artists are working with Nashville songwriters to find a sound all their own.
They never shy from the challenge of playing different styles on classical instruments, Meyer adds.
"We're always pushing each other, and nine times out of 10, one of us will say, 'Yeah, I can make that sound,'" he says. 
Sending a Message
Time for Three has also taken opportunities to send a message through its music.
This includes a music video the group created for its cover of Kanye West's "Stronger." The video conveys the story of a teen musician overcoming bullying through his passion for music.
"All of us in the group had experiences like that growing up," Meyer says. "It was an important issue for all of us."
The band's bottom line is to deliver some welcome escapism, he adds.
"A lot of listeners say to me after a show, 'When I hear Time for Three, I just feel happy,'" he says. "That's how we feel when we're playing, so that makes sense."
Time for Three performed in February of 2018 in Myron's Cabaret Jazz.