5/7/2018
Education and Outreach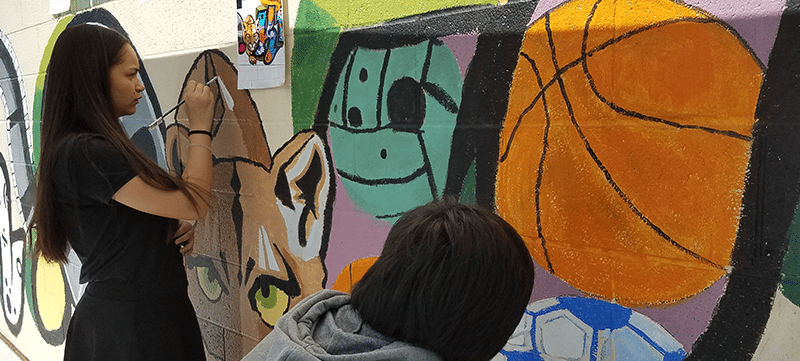 Teaching STEAM Concepts with Arts-Integrated Math Projects
Until a few weeks ago, 12-year-old Manuel Palacios thought math was just "OK."
But as he worked alongside his classmates at K.O. Knudson Middle School painting a mural on the exterior of the school, he admitted his feelings had changed.
"It's interesting. You can actually do a lot with math, even outside of school," the sixth grader said.
Offering a real-life application of mathematics was a chief goal of a special STEAM project (incorporating the principles of science, technology, engineering, arts and math) The Smith Center provided for the school this spring.
Over just a few weeks, a professional teaching artist with The Smith Center led 143 sixth graders at K.O. Knudson in applying geometric principles to create 3-D sculptures and design and grid a vibrant, large-scale mural to beautify their school.
"These are magnet students, and they choose to be at this school for the arts, and this project was a way to integrate that into math," explained sixth-grade teacher Robin Mini, who applied to The Smith Center to bring the project to her school. "This helps them retain the information and see how it's applied. They need to see this is something they'll be able to use later."
Applying Complex Techniques to Art
Teaching artist Melanie Stimmell Van Latum led all of Mini's sixth grade students in these arts-integrated math projects, including creating small-scale cube sculptures, or maquettes. 
Creating these involved the same concepts Stimmell Van Latum applies with her own 3-D street art.
"What I do is based in perspective and planning out every inch," Stimmell Van Latum said. "Knowing mathematics is very important, so we tried to bring that in the planning stages for this."
After applying specific measurements to create the sculptures, the students compiled their creations and found multiple ways to calculate the combined sculptures' volume and surface area.
"One activity I found most useful for art or math is when we talked about perspective," student Kylee Larer-Overby described. "In my art class, I tend to struggle when we do realism, and I feel like this helped me understand it more."
Bringing Students Together with Math, Art and a Goal
Stimmell Van Latum also guided the students in collaborating to design and map out a large-scale mural on a small grid. 
The students then recreated a larger version of the grid on their school wall. Using paint donated by students' families, the children painted the full mural side-by-side.
"At first I thought the grid wasn't going to help, because in the picture it looks small and tiny, but once you plan it out on the wall it looks really organized," said 12-year-old student Isabella Hale. "I like doing art, so maybe I can use math more in art now."
Mini found additional benefits with the project.
Many in her class are English-Second-Language students, she said, and the ongoing collaboration of the projects helped them communicate with their peers.
"To the students, the project was just fun. They didn't realize the concepts were difficult. It was almost like learning through play," Mini said. "I heard a lot of students saying, 'Math is my favorite subject.'"
Learn More
As a nonprofit, The Smith Center provides many outreach programs in which teaching artists help Southern Nevada educators incorporate the arts into teaching all curricula – helping promote student engagement and retention.
The STEAM project at K.O. Knudson was made possible thanks to the generous support of Switch.
To learn more about The Smith Center's education and outreach efforts, click here.