7/7/2015
Supporting the Arts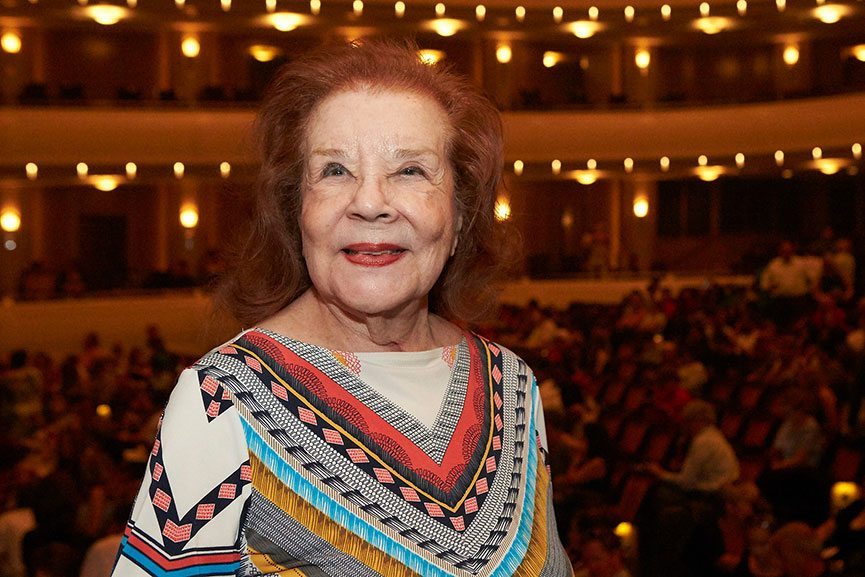 The Smith Center is proud to have wonderful friends in the Las Vegas community. One notable individual is Angie Wallin, a local resident for more than fifty-eight years. Wallin has a long history of involvement in the greater community, especially in the arts.
Currently the executive director of Nevada Arts Advocates, Wallin's commitment reaches across the Silver State. She's been a member of the organization since 1981 and helped organize the first Arts Day in Nevada in 1989. For more than three decades, she's been active in liaising with Carson City officials – from governors on down – to grow support for the arts.
Wallin has also been appointed to both the Nevada Arts Council and the Nevada Humanities Committee. Here in Clark County, she is a founding member of the Las Vegas Arts Commission and Friends of Charleston Arts Center. She has been on the advisory boards of the Las Vegas Philharmonic, Opera Las Vegas and the Henderson Arts Council and she has been the recipient of the Woman of Achievement Award in the Arts from the Las Vegas Metro Chamber of Commerce Women's Council.
These are just a few examples of her community endeavors and honors.
Last month Wallin's daughter made a tribute gift in her name that supported tuition for a child to attend Camp Broadway. We caught up with Wallin to talk about arts and culture in our community:
Ms. Wallin, you have made a tremendous impact on arts and culture in Nevada. Was there a defining moment for you that steered you in this direction, or was it a life-long love?
I would say a life-long love. My parents took my brother and me to cultural events as soon as we could walk – including concerts in the park, museums, flower shows, galleries and our first opera.
What do you think have been the most challenging aspects to growing and promoting arts and culture in Las Vegas?
I believe families going to events together and introducing the arts to their children promotes arts and culture. Adults who have moved from other areas often do not want to involve themselves to nurture the arts in their adopted city (it is a challenge). 
What do you think lies ahead for the community with regard to arts and culture?
I think there will be growth and new and emerging cultural opportunities. New opportunities to see, hear and be emotionally transported for a short time will be made available.
Why should people care about and support art, culture, art education and places like The Smith Center?
The Smith Center has provided a vehicle for people to see productions that they previously would have had to travel to New York, Los Angeles, San Francisco or Europe to enjoy. The Smith Center is our "jewel in the desert" for culture.
You have had a life-long relationship with championing art and culture in Las Vegas, furthering the art community and providing opportunities to the under-served. Recently, your daughter Julie Gilday-Schaffer (an arts advocate in her own right), made a tribute gift in your honor that supported a child's tuition to participate in Camp Broadway. What did you experience when you attended the camp's finale presentation?
I've worked on behalf of many children in the community since my arrival in 1951, helping to foster and expose a child to a worthwhile endeavor such as art is very important to me. Through Nevada Arts Advocates I have fostered a scholarship program for students and teachers in the arts.  I found the experience of watching a week's worth of camp performed by the children extremely touching. I was impressed that the parents attended and gave their support. 
The tribute gift was an unexpected surprise and an extremely touching validation to my long-time interest in the arts. I was excited with the children to enjoy the day. The opportunity for them was well-placed and a memory they will not ever forget.
You can read more about Camp Broadway here.