10/4/2018
Community Impact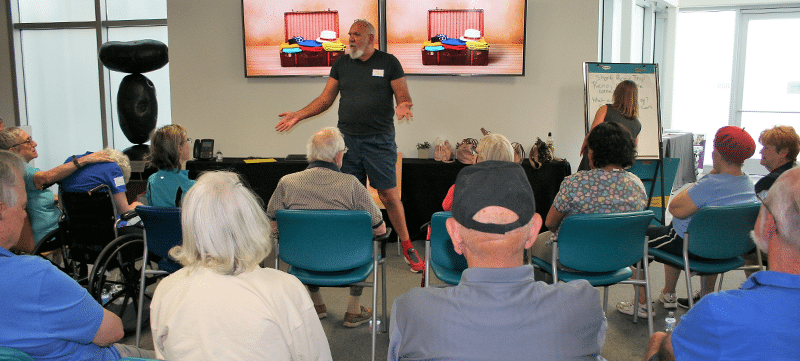 The Smith Center Collaborates with the Cleveland Clinic Lou Ruvo Center for Brain Health
Standing inside the Cleveland Clinic Lou Ruvo Center for Brain Health, Jay Nagle gestured to a photo of mysterious people clustered by a classic car.
"What else can we say about this? Where do you think they're going?" prompted Nagle, a teaching artist with The Smith Center for the Performing Arts.
The 25 seniors seated before him called out ideas ranging from New Mexico to the Coors brewery.
As they responded to more of his questions theorizing about the photo, a story began to take shape.
Nagle recapped the growing narrative again and again, with the seniors often speaking along with him.
"Thank you all for sharing your imaginations," Nagle lauded as they followed along.
This was just the latest session of a new collaboration between The Smith Center — a nonprofit — and the Lou Ruvo Center for Brain Health, to provide 52 weekly sessions of arts-based experiences for individuals with neurodegenerative diseases.
Each led by a Smith Center teaching artist, these experiences largely utilize TimeSlips, a creative storytelling method designed for individuals with cognitive disabilities like Alzheimer's and dementia.
"With TimeSlips, there's no right or wrong," Nagle says. "They're communicating, and that's the No. 1 thing."
Storytelling to Stimulate the Mind
To host these weekly, arts-based exercises at the Lou Ruvo Center for Brain Health, Nagle became one of the first individuals in Nevada to get certified in the TimeSlips method.
Utilized worldwide by certified facilitators, TimeSlips applies open language and improvisational storytelling to encourage participants to use their imaginations and connect with others.
"What it's really pushing for people with Alzheimer's is immediate recall," Nagle explains. "That's why there's a lot of recapping and retelling."
Another priority is to make the experience fun. This was clear during a September session, when the Lou Ruvo staff led the seniors in songs that tied into their story's road-trip theme.
Each week's participants span a wide spectrum of cognitive disabilities, Nagle notes.
"We do a lot of songs with (repeating choruses), to see what sticks," he says.
This engaging approach fits well with the Lou Ruvo Center for Brain Health's pursuit of more effective treatments for brain diseases.
"Those living with neurodegenerative diseases and their family members face extraordinary challenges," says Dr. Dylan Wint, NV Energy chair for Brain Health Education at Lou Ruvo Center for Brain Health. "An integral part of our mission is to equip them with the support and educational resources they need to navigate these challenges and live the most fulfilling life possible."
Benefits for Patients and Caregivers
Each of The Smith Center's TimeSlips sessions takes place during the Lou Ruvo Center for Brain Health's weekly Memory Café, an evidence-based program designed to provide patients with stimulating cognitive activities while also offering respite time for caregivers.
Tim Webb, whose wife attends the Memory Café, fully supports including The Smith Center's arts-based experiences in the program.
"I think it fits right in," he says, adding that his wife is always enthusiastic to be creative. "When I pick her up, she's got a big smile on her face."
While his wife attends the program, he adds, this gives him time to attend the support group for Alzheimer's caregivers at the Lou Ruvo Center for Brain Health.
"Everyone is benefitting," he says.
These weekly TimeSlips sessions are expected to serve a total of approximately 1,300 individuals.
This program has been funded, in part, by the Nevada Arts Council, a state agency, and the National Endowment for the Arts, a federal agency.
"We are incredibly grateful to The Smith Center for the opportunity to collaborate on TimeSlips," Wint says.