9/10/2018
Performances and Artists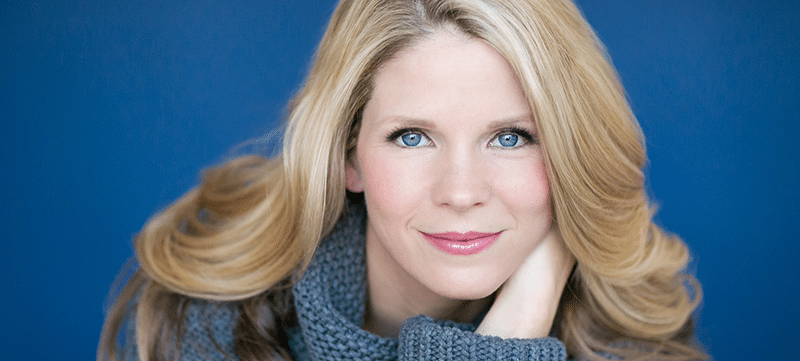 Famous Melodies and Insider Stories
Renowned Broadway performer Kelli O'Hara can offer many stories of how tough her job can be.
Take, for example, when she starred in "South Pacific" on Broadway.
One performance found her seamlessly belting the tune "I'm In Love With A Wonderful Guy" … But little did the audience know, she was feeling pretty uncomfortable.
"The costume people had recently worked on the bathing suit she was wearing, and left all the pins inside," says Seth Rudetsky, host of SiriusXM show "On Broadway." "She performed while being stuck by a ton of sharp pins."
This is merely a sample of intimate, behind-the-scenes anecdotes that audiences will enjoy on December 2, when O'Hara and Rudetsky take The Smith Center stage for a special concert experience.
The show will feature O'Hara — a Tony-winning stage-and-screen performer, also recently nominated for an Emmy — singing famous melodies from her glittering career, which has spanned starring in "Nice Work If You Can Get It," "Jekyll and Hyde," "Follies," and most recently "The King and I."
In between songs, O'Hara will be interviewed by Rudetsky about rarely told stories and secrets of her career, with Rudetsky injecting his signature humor throughout.
"Nothing is scripted, and I'm always obsessed with (discussing) onstage mishaps," Rudetsky hints of what is to come.
A True Broadway Star
Rudetsky has conducted similar shows with top theater stars across the country, including a concert  spotlighting Broadway legend Chita Rivera at The Smith Center in 2017.
Audiences are in for a rare treat, Rudetsky says, by experiencing this show with O'Hara.
"She is a mega Broadway star," he says. "She's a star like the kind we had in the old days, going from Broadway lead to Broadway lead."
For those who haven't experienced O'Hara's stunning vocals on Broadway, they will likely recognize her from her many television appearances, including starring as Mrs. Darling in NBC's live telecast of "Peter Pan" alongside Allison Williams and Christopher Walken.
"Not only is she beautiful, but she can change her voice to suit whatever she's doing," Rudetsky notes.
A Show Like a Private Concert
Rudetsky fully expects his onstage discussion with O'Hara to be comfortable and intimate, he says, as they have known each other for years.
He even has an idea of stories he wants to dive into, he says.
For instance, when O'Hara snapped at a pianist during a Broadway audition — only to discover the pianist was actually a world-famous composer who had won multiple Tonys and Oscars.
"When she found out, she was mortified, and he always joked with her about it," Rudetsky says. "She'll reveal that name at the show."
Rudetsky promises the show will feature both "a ton of music" from Golden-Age musicals, as well as non-stop laughs.
"It's like (audiences) are sitting in our living room, watching a private concert just for them," he says.
"The Smith Center & Mark Cortale Present Kelli O'Hara with Seth Rudetsky" was a part of the 2018-2019 season.