3/9/2018
Performances and Artists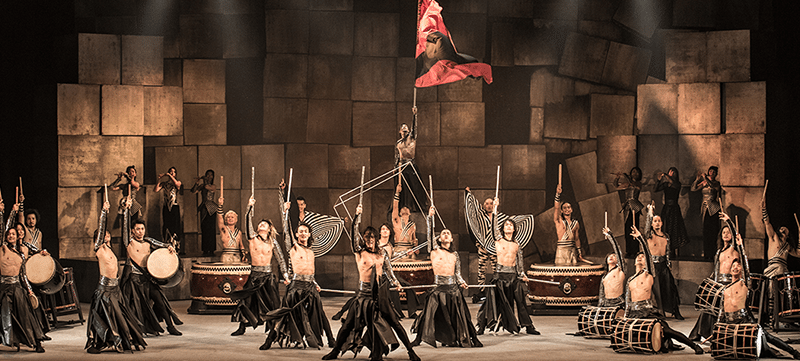 Renowned Japanese Performance Company TAO Takes Inspiration from Las Vegas Shows
To say the over 30 members of Japanese performance group TAO are unified is an understatement.
Renowned as the most elite male and female performers in Japanese art forms, they all live together in a remote house tucked in the mountains of southwest Japan, fittingly known as TAO Village.
They exercise together, kicking off each day with a 5:30 a.m. run.
They cook and eat together. They maintain the house together… And even share one bath between them.
Around all this, they spend nearly every waking hour together rehearsing ancient Japanese instruments dating back thousands of years – including taiko drums.
"It's very isolated, but that's ideal because we can keep practicing all night long without bothering any neighbors," laughs Taro Harasaki, TAO's lead performer. "We can talk about rhythms and our productions all the time because we live together."
This dedication has allowed the group to achieve its long-term goal of becoming an international performing sensation, showcasing classic Japanese art forms with a modern flair.
Getting to this level, however, has not been easy.
Inspired by Las Vegas
A performer with the company for 14 years, Harasaki knew early on that TAO's electrifying mix of choreography, costuming and music was something special.
"What we want to do is more than just classical drumming," he says. "It's a very modern style and uses a lot of modern aspects in the show."
Shortly after forming in 1993, TAO sought ideas for making its performances as memorable as possible.
They knew where to find inspiration: Las Vegas.        
"Every year we go to Las Vegas as a company to study the shows," Harasaki says. "With some shows, you walk into the venue and you feel like you slip into another world. That's what we want to do."
Going Global
TAO's producer Ikuo Fujitaka also discovered that the most popular shows in Las Vegas found success elsewhere first. 
This prompted the group to perform at the international Edinburgh Fringe Festival in Scotland. TAO's performances were so popular, they immediately launched tours across Europe, Australia and Asia.
Each of TAO's North American tours have sold out shows coast to coast.
"Some people are crying after the show, because it's very powerful," Harasaki says. "Audiences can experience something they've never experienced before."
Creating TAO: Drum Heart
TAO's Las Vegas dreams could come true, with the group's breathtaking new show, "Drum Heart."
A large-scale production with contemporary costuming, "Drum Heart" features fiery choreography and music on ancient Japanese instruments.
TAO's musicians and performers composed the music and created the choreography themselves, Harasaki says.
"Sometimes we didn't sleep and we composed all night long, and we did choreography all night long," he recalls with a laugh.
He assures that even audiences who have seen TAO's previous shows are in for a production like none they have seen before.
"Audiences can truly experience a new world of entertainment from Japan," he says.
"TAO: Drum Heart" was a part of the 2017-2018 season.