8/19/2020
Education and Outreach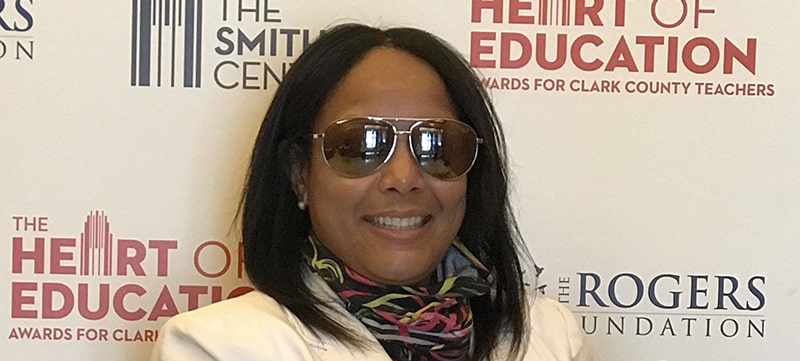 "If you build it, they will come," is the motto that guides Tiffany Grant as she works to prepare her junior high school students to be successful as high schoolers and later in life as adults.
As a teacher at Lawrence Junior High School now in her fourth year, Grant has pioneered numerous programs from the ground floor up to enhance both learning and personal development opportunities for her students, who number as many as 1,400 and range in age from 11 to 13 years old.
"I want to make every moment with students count," says Grant. "That's why I'm always looking for ways to strengthen the bridge that will lead them to be successful in the future."
When Grant first arrived at Lawrence, she noticed there wasn't an outlet for kids to express themselves creatively. So she decided to nurture a space where talent, song, dance, silliness and laughter could thrive. She created an after-school, student-led drama club where students produced, wrote, directed and starred in their own plays.
The enthusiasm of the students and the success of the drama club ultimately motivated the school's administration team to offer drama as a permanent elective class.
"Physical education classes where kids get to run around serve a purpose, but drama instruction gives kids a structured way to not only just be silly, but also practice their reading, writing, interpersonal skills and problem solving," says Grant.
In recognition of her ability to innovate in the classroom, The Smith Center honored Grant as one of the top 20 teachers of its fifth-annual Heart of Education Awards, celebrating outstanding Clark County School District (CCSD) educators.
Grant received a $5,000 cash award, thanks to generous support from The Rogers Foundation. Her school will also receive a $1,000 donation.
"Winning the Heart of Education Awards was humbling and unexpected," says Grant, who laughs and admits she is usually the type who prefers to be behind-the-scenes.
Finding Ways to Link Students, Families and Community
Grant believes that the key to students' success is through the support of their parents or guardians, as well as their community.
"Most parents and guardians want to help, but are often unsure of what to do or how to do it," says Grant, who decided three years ago that monthly family engagement sessions could help address the need.
Approximately 14 parents and eight students attended Grant's first session. As of the last school year, Grant says the session was attended by nearly 200 parents and students looking for information on a range of topics such as insight into high school graduation requirements and cyber safety for parents and students.
"It became a standing-room-only event," she says.
With the success of her family engagement sessions, Grant decided to take a step further and create stronger partnerships within the community. By networking with local businesses, Grant was able to collect a variety of donations and reward incentives to recognize student achievement, growth and attendance. These incentives also helped to support the school's Testing Kick-Off assembly.
"Through simple community outreach, our students were able to enjoy skating passes, free meals, cups of ice cream and hours of trampoline fun," says Grant.
Last year, Grant also reached out to colleges and universities from across Las Vegas and neighboring states to invite them to participate in an inaugural College Family Night. About 15 schools and youth organizations participated in the event, which featured guest speakers and more than 250 families in attendance.
"It's important to think about college even when you're in the sixth grade," says Grant, who encourages her students to learn about courses they can take so that they can be better prepared for high school and eventually college.
For the next College Family Night, Grant says she plans to invite the entire CCSD community, from the school down the street to high schools across town. "We're really all part of the same team with the same goal, which is the growth, happiness and success of our students."
Inspiring Better Reading and Writing
Grant was nominated for the Heart of Education Award by several of her students who say that, while she can be tough, she helped them dramatically improve their reading and writing.
From learning new words to mastering reading strategies that help to identify the central idea in the text of a book or online assignment, her students say Grant helps them to even surpass their own expectations.
"Reading and writing are both skills that provide a strong foundation for the future," says Grant. "Subjects like math and science are also important, but you have to be able to read math questions and write your answers."
As Grant embraces the new school year and continued distance learning due to the pandemic, she says she'll put an emphasis on communication with students and their families to ensure their ongoing progress.
"Every new year is an opportunity to try something new," says Grant. "It's all about attitude."