8/13/2020
Education and Outreach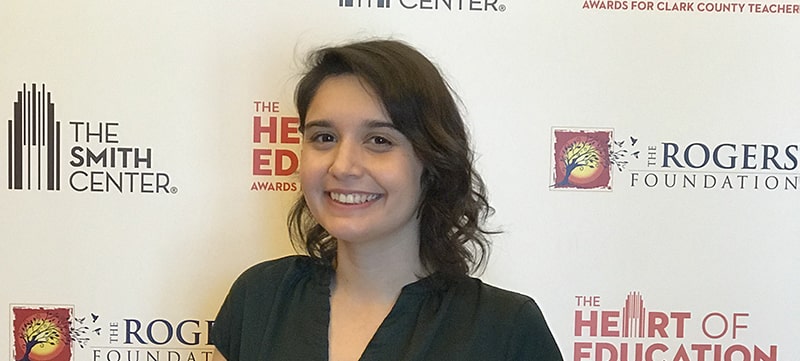 Crystal Massengale longed to become a teacher since childhood.
"When I was in 5th grade, my younger sister was getting ready to begin kindergarten, and I spent all summer creating and printing off worksheets to help her trace her letters," Massengale remembers.
Now after just five years of teaching at E.W. Griffith Elementary School, she makes a tremendous impact with helping children learn to read and improve their overall health.
As a teacher with the school's Reading Center, Massengale has guided struggling young readers to overcome their anxieties and conquer books side by side. This includes helping kids bridge the gap when they fall years behind their peers in reading abilities.
"The Reading Center has been a phenomenal experience," she says. "Students are able to work through these challenges together, help one another and eventually celebrate success."
And as coordinator of the school's Fruits and Vegetables program, Massengale introduces reluctant eaters to new foods — with the knowledge that nutrition boosts students' concentration and wellbeing.
"Being a part of this program has allowed students access to fresh fruits and vegetables, a safe place in which to try new foods without judgment, and the ability to take ownership over their own food choices," Massengale says.
To celebrate her inspiring work, The Smith Center honored Massengale as one of the top 20 teachers for its fifth-annual Heart of Education Awards, recognizing outstanding Clark County School District (CCSD) teachers.
Massengale received a $5,000 cash award, thanks to generous support from The Rogers Foundation. Her school will also receive a $1,000 donation benefitting a program of her choice.
"It's an honor to have someone notice the work that you're doing is something special," she says. "Teachers put a lot of heart and soul into their profession. They deserve the opportunity to be seen for the hard work they do, instructionally and emotionally."
The Challenge of Healthy Eating
Massengale admits she fits perfectly for helping kids overcome dislike and fear of new foods.
"I was the kid who wanted chicken nuggets and plain rice or pasta for every meal," she recalls. "Eating a healthy amount of vegetables has been a pretty big development for me, to be honest."
The school Fruits and Vegetables program has benefitted Massengale and students both.
She works closely with nutritionist Susan McClain on school presentations that make unfamiliar foods easier to try, which Massengale says she uses herself.
Her tips for nutritious eating during the pandemic reflect those for any time of year.
"Make eating healthy realistic and fun for your family," she says.
She recommends modifying dishes to include more nutrients, such as adding broccoli to fettucine alfredo, and making a refreshing smoothie where fruits mask the taste of kale.
"Students of all grade levels have begun making healthier choices on their own," she says of the program. "Prior to taking a reading assessment one morning, a fifth grader came to me to show off his kale smoothie, made fresh at home."
A Year of Changes
The new school year brings many changes for Massengale.
Due to lack of funding, the Reading Center will not run this year.
But Massengale plans to continue promoting literacy in her new role as a fourth-grade teacher, and will try to closely meet students' needs during remote learning.
While funding for the Fruits and Vegetables program remains uncertain, she encourages students and families to watch virtual nutrition sessions with nutritionist McClain.
"These small positive changes — both in nutrition and attitude towards reading — make a difference in students' futures," she says.